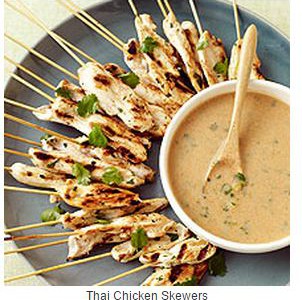 Now that spring is in full swing, it's a great time to lighten up our meals. So, in this issue you'll find four simple-to-make recipes that all have something terrific in common: a PointsPlus® value per serving of 3!
We start with Thai Chicken Skewers, a wonderful, savory appetizer loaded with exotic flavors. An appetizer serving (two skewers) has a PointsPlus® value per serving of 3. But, you can also double the servings for a dinner portion with a PointsPlus® value per serving of only 5.
Next up is Ham and Asparagus Rolls with Creamy Salsa Dip, a truly impressive perfect-for-spring party dish that's light, delicious and ready in just minutes.
Love Caesar salad but hate the calories? Our Kale and Escarole Caesar Salad has the lemony-cheesy-garlicky flavors of the original with a fraction of the fat. It's great alone, but you can also add fish or chicken for a satisfying main course.
And here's a crunchy snack that will wake up your mouth. Our Hot Pepper Pretzels include melted butter, soy sauce, cayenne, garlic powder and salt, and heat up in just seven minutes.