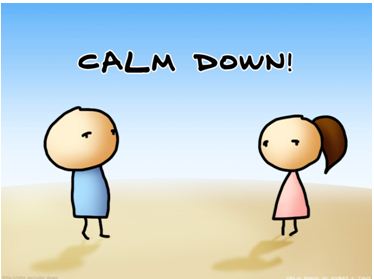 As the end of the school year approaches, I felt we it would be beneficial to discuss the benefits of a stress management plan. We have dedicated several emails over the last year on tips to alleviate stress (mindfulness, exercise, healthy eating habits, time management,  etc.), but we've never really discussed the importance of understanding and managing stress.  It is truly multifaceted and starts with awareness and education and ends with action.
The American Psychological Association lists several steps associated with a stress management plan that are worth discussing:
1. Understand how you experience stress.  How do you know when you are stressed?  Do you feel overwhelmed or helpless?  Do you become more productive?
2. Identify your sources of stress.  I can imagine that the end of the school year is both much anticipated and dreaded at the same time.  So much to do and so little time, right?
3. Learn your own stress signals. We all have our own stress response.  Do you get agitated or short-tempered.  What are your physical symptoms (headaches, stomach aches, increased/decreased appetite, lethargy)?
4. Recognize how you deal with stress.  Do you handle stress well or could you improve?  Do you engage in poor-health behaviors to help alleviate stress (eating poorly, smoking, drinking alcohol, skipping your workout)?  Do you engage in these behaviors every time you are stressed or only in certain situations?
5. Find healthy ways to manage stress.  Try to focus on a positive stress relieving behavior the next time you feel overwhelmed.  There are many things to try – deep breathing, relaxation, meditation, short/brisk walk, or even talking things through with a friend.  Find one that works for you and use it!
6. Take care of yourself.  Here is where the tips we've discussed throughout the last year come in to play!  Being mindful helps alleviate stress, as does exercise, eating right,  and getting adequate sleep.  Another great tip is to take a vacation (summer is almost here!).
7. Reach out for support.  The importance of social support is sometimes underestimated.  Being able to share your problems, talk things through, or just have someone listen is of great help to all of us.  Don't shut yourself off and assume you can handle it.
To summarize, Steps 1-4 are awareness. How do you handle stress?  What does it do to your body?  Steps 5-7 are the educational piece.  How can you implement healthy ways to deal with stress?  Finally, you need to be the action piece.  Go through these 7 points and think about your response for each.  Then make a stress management plan and stick to it.  You deserve peace, but you have to be willing to put the work in to get there.  We hope you have a great end to the school year!
Keep Moving,
Team SOS