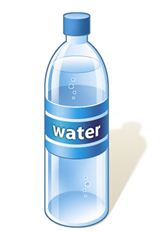 You are probably familiar with the saying that you should drink 64 ounces of water daily.  But are you familiar with why? Our bodies are made up of almost 75% water and we lose some of that water every time we breathe, sweat, and do other bodily functions.  We need to replace that water in order for our bodies to operate properly.
When we don't replace the water we lose from just daily functions, we go into a state of dehydration.  If fact, a lot of folks, are in a mild state of dehydration because they don't drink enough fluids daily.  Do you find yourself having headaches, being irritable, fatigued, or having a hard time concentrating?  All of these are symptoms of mild dehydration.  Do you drink a lot of caffeine?  Caffeine acts as a diuretic, so if you couple it with low intake of water, you can easily become dehydrated.
Here are a couple easy checks to determine if you are hydrating properly:
1. Drink before you are thirsty.  Thirst is actually a sign of mild dehydration.
2. Check the color of your urine.  Properly hydrated individuals will have very light yellow urine (or almost clear).  The darker the color, the more concentrated your urine is, which means you aren't drinking enough.
So, back to the 64 ounces/day rule.  It's actually outdated (from 1945!)and new research supports we need more than 64 ounces/daily.  Plus it totally depends on your body size, fitness level, amount you exercise, etc.  A good rule of thumb is to consume half your body weight in water daily (ounces).  For example, a 150lb. person should consume 75 ounces of water daily (and add 10-15 ounces if you are active).  Sounds like a lot, huh?  But, you can get some of this from food if you eat a lot of fruits and veggies.
Your goal for this week is to get in more water and aim for half your body weight in ounces.  Find a reusable water bottle that you like and can take with you everywhere.  Drink in the car, drink between classes, and drink water with meals.  All of these tips will help you get more in and stay hydrated.  Recognizing hydration as one of the many keys to optimal health is both necessary and rewarding.  If you start to properly hydrate, you will see improvements in your physical, mental, and emotional health.  There is nothing better than feeling healthy.  Drink up!
Keep Moving,
Team SOS