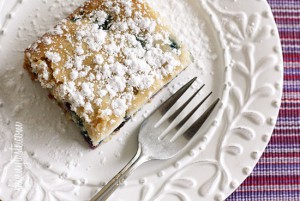 A simple yummy cake loaded with fresh, juicy blueberries in a lightly sweetened, moist buttermilk cake. And yes, it's light too!
Ingredients:
2 3/4 cups cake flour
1 1/2 tsp baking soda
1/2 tsp salt
1 1/4 cups sugar
4 tbsp softened unsalted butter
3/4 cups unsweetened applesauce
3/4 cups low fat buttermilk
2 cups blueberries
1 large egg, beaten
2 large egg whites
2 tsp vanilla
baking spray
Directions:
Preheat oven to 325°.  Grease a 13 x 9 inch baking pan with baking spray.
In a large bowl combine flour, baking soda, and salt in a large bowl. Mix well.
Using a hand mixer or stand mixer, in a medium bowl, beat sugar and butter for about 3 minutes. Add egg and egg whites one at a time and beat until combined. Add buttermilk, vanilla and applesauce until incorporated.
Add wet ingredients to the flour mixture and stir until just blended.  Gently fold in blueberries.
Place the batter into the prepared cake pan; bake cake until a toothpick comes out clean, about 30-32 minutes.  Serve room temperature.   Simply top it with a little powdered sugar before serving (completely optional) or you can even serve it with some whipped topping (or Greek yogurt) on the side.
Calories: 168.2 • Fat: 2.9 g • Protein: 3.1 g • Carb: 33.1 g • Fiber: 1.2 g • Sugar: 17.1 g Sodium: 191.8 mg