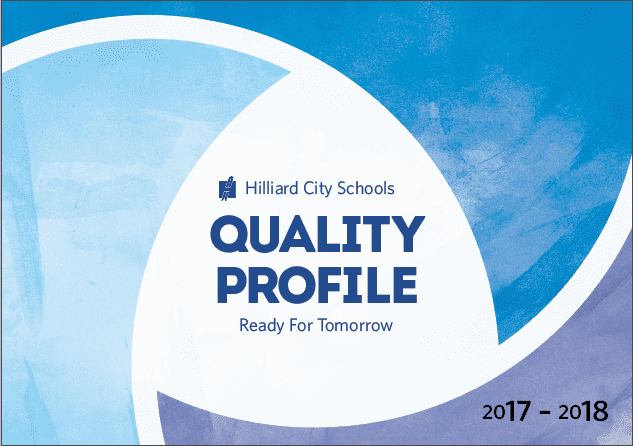 In Hilliard, we use many tools to measure our students' growth. This week, the Ohio Department of Education will release its annual Local School Report Cards. This is merely one tool, one set of data that is used.
We know there is so much more to a child's learning and growth than what is measured on this report card, which offers only a limited snapshot on a handful of indicators. Instead, let us look at the ways we are empowering our young people more than ever before.
In Hilliard City Schools, we have:
Increased our third grade reading passage rates 7.6% from 2016.
Improved in fourth grade social studies and met the state indicators in 2016 and 2017.
Our eighth grade math passage rates increased 8.7% over 2016
Our high school passage rates in English 1 and Biology jumped nearly 10%
The Class of 2017 accepted over $20 million in scholarships and grants to attend more than 100 different colleges and universities across the country.
The State Report Card has incorporated many changes over the past several years. As a district, we saw improvement in 13 areas that was not reflected because the target has moved again.
Of course the Hilliard City Schools are not satisfied with our report card grades. The State Report Card is one of many data points we take into consideration as we strive to continue to improve performance. It's not the only valid measure; it's just one area. We will continue to strive to bring balance to education as we prepare all students to be Ready for Tomorrow.
We aren't going to change direction because of a once-a-year assessment. We believe we are providing tremendous educational experiences for our students. We will not teach to the test for the purpose of simply improving our grades on the State Report Card. Hilliard continues to prepare students for future success based on local measures and community expectations. Ultimately, we are responsible to our tax paying community and we have great confidence Hilliard graduates are prepared for success in the world of tomorrow.
We encourage you to read more about how we are getting our students Ready for Tomorrow here in our 2017 Quality Profile. Thank you for your support.
Dr. John Marschhausen
Superintendent
Hilliard City Schools