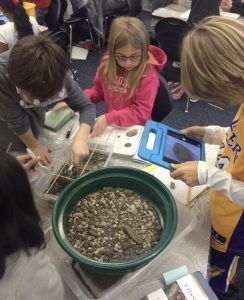 This year the fourth grade students' life science unit began with exploring a fossil dig as if they were real paleontologists, using real fossils that were buried in layers of sand, dirt, and rocks. Students took on roles within their team as excavators, archivists, and curators. During the dig they were mapping their finds, observing characteristics, and working with fossil field guides to identify the fossil and learn about it. The guiding question they worked to answer was "What can we learn from studying fossils?" Students also created replicas using plaster of paris and blogged about their learning. They wrapped up the unit with a guest speaker from the Ohio Historical Center and with students sharing their findings with each other "museum style". 
Fourth grade Teacher Molly Triplett created this lesson after participating in a week long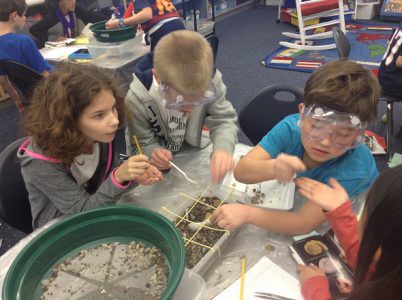 professional development session last summer. It's funded by a grant from the Ohio Department of Education. She was selected to participate and to receive all the science supplies (real fossils, tools, nonfiction texts, etc.) to teach the unit. "It's literally hundreds of dollars of stuff I would never have had access to, and I get to keep for future years. And it's been a total game-changer," said Mrs. Triplett.
We have extremely dedicated teachers in Hilliard that work through the summer to prepare the most innovative lessons possible for our students.