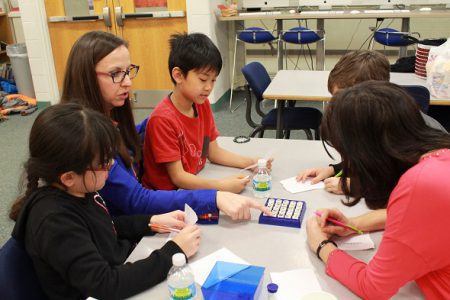 We are proud to announce Brown and Horizon Elementary have been awarded 21st Century Federal Grants. This is the second time for Horizon to win the grant to support their New Horizons and Power Hour Programs.
New Horizons is an afterschool program focused on offering students opportunities that they may not have at home. We have generated a list of 48 different classes spanning from Lego robotics to learning how to knit that we offer students after school. Our classes are filled with critical thinking strategies such as building your own computer to discovery with dissecting a squid. Our focus is on the whole child. We also have classes that build relationships such as leadership lessons and building family dynamics.
Before school programming at Horizon is Power Hour. This was conceived when we found students had a need for specific academic targeted interventions. Selected students come to school one hour before the school day. The groups consist of Leveled Literacy Instruction, Orton-Gillingham, Do the Math, and Guided Reading Groups. The teachers work with small groups of six to seven kids and build a relationship with the students while teaching the targeted interventions.
This will be the first year for Brown Elementary. "Brown is excited to follow in the footsteps of Horizon's successful program," said Principal Kate Mille. The two leadership teams will work together on programming and targeted intervention for our students.
This is a five-year grant, with each school receiving $200,000 in the first three years and $100,000 in years four and five.
The Ohio Department of Education's Office of Federal Programs administers the 21st Century Community Learning Center (CCLC) grant. This federally funded grant program supports high quality, out-of-school time learning opportunities and related activities for students who attend eligible
schools.
Last year Horizon was recognized by the National School Board Association as a first place Magna Award Winner for the New Horizon and Power Hour Programs.