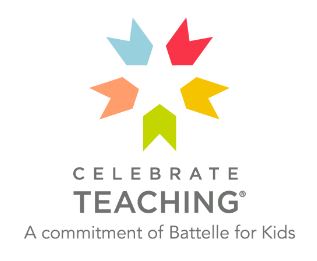 Battelle for Kids recently recognized Lindsay Fisher as a distinguished educator for her tremendous impact on her students, colleagues, and community. Lindsay is among 33 teachers from across Ohio to receive the 2017 Celebrate Teaching Distinguished Educator Award as a representative of excellence in the teaching profession. The awards were presented during a program at the Educators Connect for Success Conference in Columbus on June 8.
Lindsay is the first to embrace educational best practices in order to grow all students. She values her team members and effectively collaborates with staff, as well as students and parents, to provide an authentic and purposeful experience for all learners. She is constantly adapting and adjusting her practices so that she can be most relevant and provide the highest quality learning experiences for all.
Celebrate Teaching is Battelle for Kids' commitment to celebrate, support, and inspire great teaching. Since 2012, the organization has recognized nearly 300 outstanding teachers with the Distinguished Educator Award who have shown powerful results in the classroom. The 2017 Class of Distinguished Educators were selected for demonstrating evidence of great teaching in multiple ways—including academic, non-cognitive, and community measures.