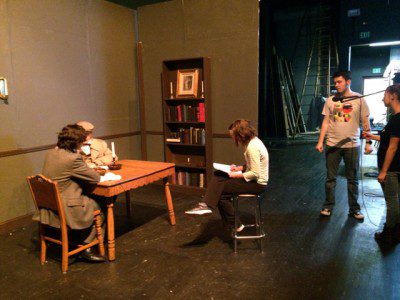 Liz Penry is a senior working on her Capstone Project. She is an aspiring writer who is highlighting other seniors and their hard work on their own projects. Here is her newest article.
Tony Ashley, an aspiring filmmaker, is using his senior capstone project to produce a short, murder mystery film. It is based on a script he wrote about a New York journalist questioning a man's trial during the 1890's.
To do this, he first assembled nine of the finest filmmakers at Hilliard Davidson High School to discuss, analyze, and execute the logistics behind the production. Together they drafted a schedule, designed a set, created a shot list, assembled costumes, acquired props, and arranged lighting and audio to match their specific needs. Once these various means were finished, the ten students moved onto actually shooting the film, while also being the actors. The students had only four days to build a period correct set and shoot an approximately seven minute film. Delicious pizza, remarkable dedication, and a shared love for storytelling was what made this film prevail.
Tony grew up constantly creating films; whether it had been with his best friends, or the neighborhood children, he always found a way to be behind a rolling camera. He then tried to perfect his art by teaching himself through numerous online courses, and eventually by taking Davidson's media arts classes. Despite all this prior training and these previous experiences, Tony explained that the senior capstone was "the first time where [he] could sit down with a bunch of creative people, work out something really, truly great, and go through the proper steps and procedures."
"I remember being on the set," Tony states, "and looking at one of my crew members, and I was like this is what I need to be doing with my life, and I never would have felt that if it wasn't for the opportunity of senior capstone." Tony hopes to use his short film, not only as his senior capstone, but also to submit in film festivals, competitions, and part of his applications to certain universities.