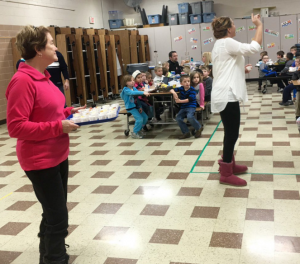 Taste Test Tuesday: Making Healthy Choices and Trying New Things!
 

Improving the Health and Wellness of the "Student Body" 
The Ridgewood PTO Wellness Group is designed to educate parents about our school nutrition environment and services, school-based physical activity, along with managing chronic health conditions in school settings.  We are here to provide practical strategies and actions to 
improve our school health environment.  
The Wellness Committee  has put together Taste Test Tuesdays and the Vegetable and Fruit Rewards Program through the USDA.   We provide health  information on our bulletin board located by the girls' restroom opposite the cafeteria, help with our school garden, provide post-race snacks for the Roadrunner Run and are granted with Wellness Grants through Let's Move and Action for Healthy Kids.
We recycle in our lunchroom and as of this October 2018 we will have begun our new composting program.  
Please join us at our upcoming meetings.  Dates, time and location are listed below:
Meeting Dates:
Thursday 9/27/18 at 6pm in the Media Center

Tuesday 12/4/18 at 6pm in the media center

Tuesday 2/26/19 at 6pm in the media center

Tuesday 4/23/19 at 6pm in the media center. 

Listed below are the topics we have discussed in previous meetings. Please take a look.
Wellness Meeting Notes March 2018