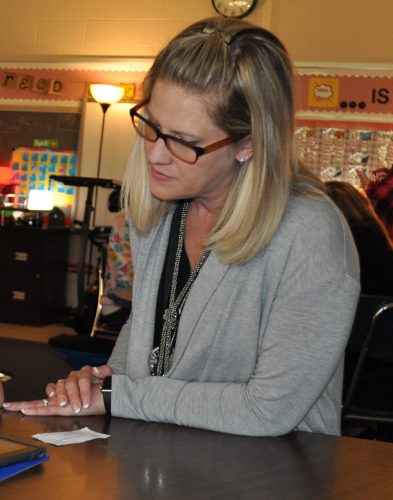 At Hilliard City Schools, personalizing education and meeting individual needs for students is part of making sure our children are ready for tomorrow. Ridgewood Elementary School, as with all elementary schools in the district, has a resource room with intervention specialists and aides to help get or keep students on track.
The resource room is a place for students to go if they are behind or struggling. It is where direct, specialized instruction can be given, for a period of time, away from the traditional classroom setting.
Shannon Aslanis, in her second year at Ridgewood but in her 15th as an educator, is an instructional aide who works alongside Kristina Bope with children who are in grades 3-5. There is also a team that works with grades K-2.
"I work with children and I'm there to assist them," said Aslanis. "If a student could use a little extra assistance, they come to us for a little additional support."
While many parents and grandparents of children currently attending school grew up sitting in rows of desks being taught by a teacher standing in front of the class, there are many different ways for students to learn and Hilliard City Schools is working to find those ways.
"We have some flexible seating in our room," Aslanis explained, "we vary that instruction to meet those (students') needs. When I was a kid, you sat at your desk and you stayed at your desk all day. I think this is so much better for how kids learn."
Ridgewood students have the opportunity to get more individualized attention when needed – sometimes in the form of work in small groups but also one-on-one when needed – before returning to their regular classrooms.
"That one-on-one time is amazing," said Aslanis. "They do really well in smaller groups. I think this is so much more in line with how kids learn. I really enjoy it."