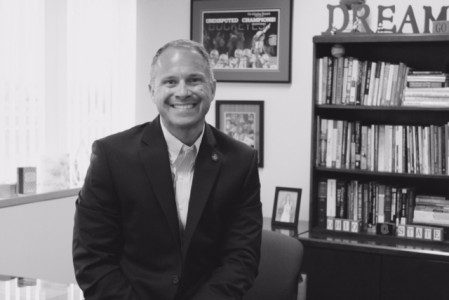 As we get ready to welcome students on Monday, August 21st back to school, there are a couple of common questions that seem to keep popping up. Please know our goal is to address every question with an answer that makes everyone happy. While this is our objective, several of these topics seem to be divisive. My commitment to you is straight answers with transparent reasons for each decision. 
Why is Hilliard starting school later than our neighboring schools this year?
With the construction of the Memorial Middle School and significant projects across the district, we have intentionally planned for "longer summers" in 2017 and 2018. From the parking lot and roof projects at Darby and Davidson to several HVAC projects during the summer months, from security upgrades to technology launches, the additional couple of days at the end of the summer gives us additional time to complete summer projects. It's just that simple.
As I share with everyone who asked about calendar issues – and I know there are community members on all sides of these issues – 178 school days is 178 school days. The calendar is merely the function of when we start, when we stop, and how many vacation days are scheduled in between. Typically, we work backwards from our graduation dates and make decisions from that starting point.
Why do many of the bus routes seem different this year?
As a result of the recommendations from the community-wide Start Time Task Force, the Hilliard City School District adjusted the start time for students in our two sixth grade buildings and our three middle schools. We also made minor adjustments to the start times of our elementary buildings. These changes were made to create later start times for middle grade students; the elementary changes were made simple to make the bus schedules function.
The posted bus schedules, especially for students in grades K-8 will require adjustments during the first couple of weeks of school. Many of these are brand new routes – drivers will be experiencing different traffic patterns and new bus stop locations. As such, we ask your patience as these routes "settle down" over the first couple of weeks. There is no way to simulate traffic patterns and loading-times without actually running the routes in "real time."
Our transportation department, individual drivers, and building administrators will communicate adjustments with parents as we adapt and adjust the new routes. We ask your patience as we work through these new route changes. We continue to evaluate and seek areas for improvement each and every day. And yes, for those in the Station, Memorial, and Bradley attendance areas . . . things will change again next year as we shift buildings and welcome our seventh and eighth grade students to Walker Road.
What does the district plan to do with the Eclipse on the first day of school?
Each of our buildings will have specific Eclipse activities on Monday. Most of our buildings have purchases approved glasses for all students. Elementary buildings have planned grade appropriate activities – buildings will be sharing specifics on their own.
Honestly, my primary concern is student safety. Our high school students that drive to school will be driving during the second half of the eclipse event. If you are the parent of a teenage driver, please remind them to keep their eyes on the road and turn on their headlights. We will remind all our older students, it is safe to be outside, just don't stare at the sun.
At the elementary level, my biggest concern is parents taking students out of school. The first day of school is a coordinated effort at the end of the school day. We need our office staff, teachers, aides, and administration working to make sure every student is dismissed to the right parent/guardian, on the right bus, or dismissed to walk home. If parents come to school, or sign students out before the end of the day, it has the potential to be disruptive. While I understand some parents want to experience the eclipse with their child, or may not want their child to watch the eclipse, I ask that students remain at school.
The first day of school sets the tone and begins creating routines for dismissal. As I said earlier, we have new bus stops and bus routes. When students who normally ride the bus, aren't on the bus, the timing is impacted. In conclusion, while the next eclipse won't happen in Ohio until 2024, I am asking that you permit your students to experience this event in school. Your cooperation will make for a better start to the year for all our students.