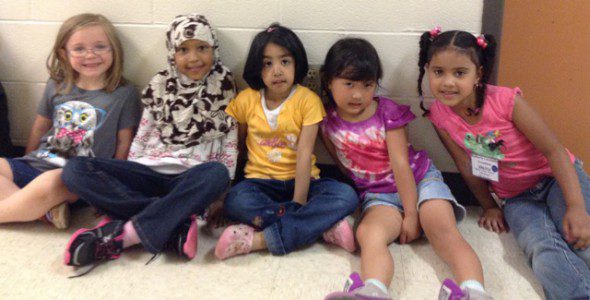 Ready for Tomorrow . . . you hear it, see it, and read it all the time from your school district. In Hilliard, our Vision is "to ensure that every student is Ready for Tomorrow."
Ready for Tomorrow isn't solely an academic vision . . . it is a life vision.
Ready for Tomorrow means we want every student to have a plan; it means each student that graduates from the Hilliard City Schools has the tools, skills, determination, and preparation to succeed in life after high school . . . every single student.
We live in a diverse, complex, and emotional world. Technology, transportation, and economics have led to the proliferation of a need for global awareness and appreciation. Our community's diversity – our district's diversity – is a great strength that prepares our students to be Ready for Tomorrow.
The Hilliard City School District is home to students from 58 different countries, speaking 44 different languages. Our diversity programs and appreciation are an important part of our work in Hilliard – and we do it well. The United States Department of Homeland Security has selected Hilliard as "the model" for other districts when building appreciation for diversity. Homeland Security has sent representatives from Hilliard to Europe to share the work we are doing. Ms. Janet Monseur-Durr, Hilliard's Diversity Coordinator, was selected as the National Education Association's winner of the H. Councill Trenholm Memorial Award. Our programs are leading the way – at a national and global level.
Hilliard is home to great economic diversity as well with nearly one quarter of our population receiving free or reduced lunch. Appreciation of diversity isn't simply based on ethnicity – it is developing an appreciation for those different than you . . . it is creating opportunities to learn and be successful in collaborative environments. Hilliard is also home to over 2,500 students with learning disabilities – our diversity makes us all better. Our vision is for each and every student to truly be Ready for Tomorrow.
Ready for Tomorrow is more than a slogan . . . it is more than a brand. Ready for Tomorrow is our commitment to our students, our parents, and our community. Ready for Tomorrow embraces our diversity – it celebrates our religions, ethnicities, customs, and languages and creates a model that has generated world-wide attention. Ready for Tomorrow prepares all students for success in the world they are going to inherit. Our students today are our leaders of tomorrow. We are blessed – and very proud – that the Hilliard City School District empowers our students to develop the skills and inspires our young people to cultivate an appreciation for true global and economic diversity that serve a the foundation for future success.