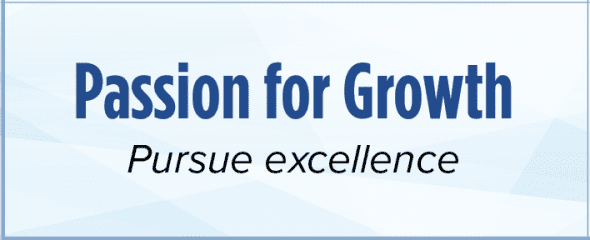 At the heart of our culture is a passion for growth, the growth of our students and the growth of our staff. We relentlessly pursue excellence every day. Our passion for growth is grounded in three behaviors:
Get focused, stay focused. We focus on personalizing instruction for every student. This focus is predicated on the whole child. We battle distractions everyday but we are relentless in our commitment to what really matters.
Embrace productive discomfort. Growth requires struggle. If we want to improve and get better, we must get out of our comfort zone. This is true for our students, and it is true for us. Therefore, we embrace the productive discomfort that is necessary for continuous improvement and growth. We adjust our plans & actions. We adopt new behaviors. We learn new methods. It's not just the key to surviving; it's the key to success.
Be coachable. Sometimes others see things we can't. Other people often have insight we can benefit from; we are open to receiving ideas, thoughts, and feedback. We never assume. No matter how much we think we know, we always work hard to improve our understanding of the situation. We want our students to be coachable, but for that to happen we must be coachable.
The outcome we achieve by behaving this way is that our students are equipped with skills and are ready for tomorrow.