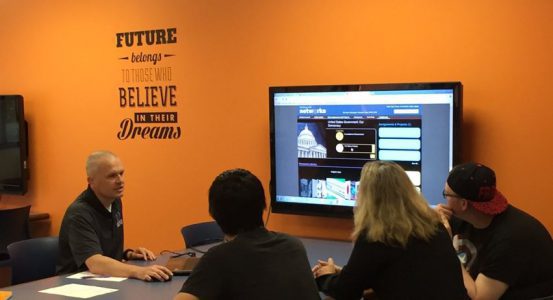 Each student has a path to his or her own Tomorrow and, in Hilliard City Schools, we believe there are many ways for students to find their unique paths. By providing personalized opportunities K-12 in the traditional brick and mortar school buildings, we have seen many students select paths that align with their passions and interests. But what about the student who might not want to choose the road that has been traveled before? What if his or her path needs a non-traditional route to ensure he or she is, in fact, Ready for Tomorrow? The intersection on this student's path might be our very own HCSD online program.
In 2003, the HCSD online program started with four classes and a simple vision: meet students where they are. Fast forward to the 2016 school year and those four classes have grown to 74, with an expanded vision of not only meeting students where they are, but also providing the high quality educational bridge to where they want to go next. In its simplest form, the online program opens opportunities for our students too…
Create a flexible schedule to open space for additional classes like AP, college jumpstart, and electives that are passion driven.
Participate in unique programming that require out-of-the-norm hour requirements, such as the Zoo school, Tolles, and the Innovative Learning Center.
Meet social-emotional needs, such as alleviating stress and anxiety in order to open doors for success.
Customize a schedule when the traditional school setting hasn't been as successful as they imagined.
These opportunities are made possible because of the highly qualified teaching staff that is behind the creation of all 74 of our online classes, none of which are purchased through an outside provider. They all meet Quality Matters® standards, are aligned with the Hilliard City Schools district curriculum, and meet state standards. These opportunities become success stories because of the one-on-one personal interactions our online teachers have with their students. Teachers regularly meet students in their home buildings, hold office hours, and are accessible online nearly anytime of the day. The myth that an online education equates to a student staring at a screen is something of the past, as our students collaborate with one another and have a steady dose of hands-on activities to choose from.
It's not surprising that we have seen a vast increase in our students served numbers. In 2012, we offered 42 online classes and served 879 students. The following year, with the opening of the Innovative Learning Center, that number rose to 53 online classes and 1,779 students served. Three years later, in the 2015-2016 school year, we served 2,160 students. No matter their paths, we believe the opportunities in Hilliard City Schools provide students the ability to design their own paths to tomorrow, and the online program is just one more direction for them to choose.