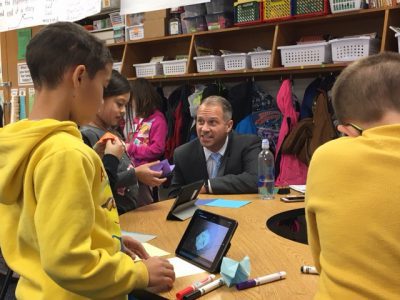 The Hilliard City School District is incredibly proud of our work in the area of technology. The vision of the Technology Task Force has served as a blueprint for our journey over the past three years – and we are just getting started. By the end of this year we will realize our goal of being One2One in grades Pre-K through 12. At the upper levels, students will carry their devices, take home, and utilize them in place of other resources. At the elementary level, iPads will be in a cart in each classroom. Each student will have a device but utilization will be more limited and intentional. For all students, our iPads are a resource . . . a tool of our time that is required for being Ready for Tomorrow.
There are some who question the incorporation of technology to this extent into our learning environment. Please know, the Hilliard City School District is focused on balance . . . balanced instructional and character development to insure that each student has both the academic skills and the mindset to be successful in this rapidly changing world. We would never expect a surgeon to use the technology from 1989 to operate on a coronary patient. Techniques and tools today far exceed the resources in 1989. The world is changing and we too must change. Our teachers are also amazing learners – mastering the next generation of teaching tools and skills. It is what we do in Hilliard . . . we prepare for tomorrow.
Our commitment to technology integration and a balanced curriculum has received national attention. We are a model district. Our commitment to educating the whole child, to cultivating the whole child, is second to none in Ohio. We cultivate a growth mindset. We are balanced in our approach to providing strong academic instruction, cultivating student interests, and developing a growth mindset in each child. To be successful in the future our students must be able to communicate, build relationships, earn trust, and demonstrate skill – all while incorporating the newest technology.
In our classrooms, no student will be on the iPad all day. We balance instruction. Our teachers are skilled at meeting the individual needs of our students. When given the technology of our time, we strive to prepare our students for success in college and the work force.