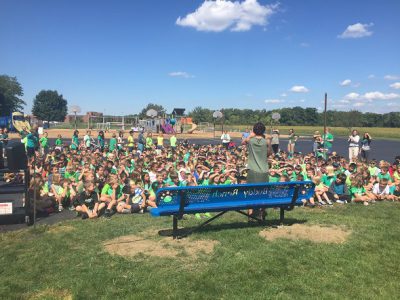 Students wore green at Brown Elementary in honor of their friend Myles Manning and Mitochondrial Disease Awareness Week. Green is the color to honor all of those who battle mitochondrial disease and those who have lost the battle. Myles was a friend to everyone he met and we dedicated a Buddy Bench in his memory. This bench is a place where all students can find a friend like him to play with and enjoy life like he loved to do. In celebration, we concluded the dedication with each student blowing bubbles and making memories together.
Myles was a student of Brown Elementary for three years before he received his angel wings. Myles will always be remembered for the courage he led and the gift he gave; for others to believe, that each day is a blessing and an opportunity to create lasting memories.
Mitochondrial Disease Awareness Week is celebrated globally to educate and increase awareness about mitochondrial disease. Mitochondria are in the cells throughout our bodies and are responsible for creating more than 90% of the energy we need. When mitochondrial does not work, the organs in our bodies start to fail and people get sick.