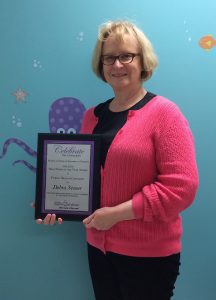 The March of Dimes paid tribute to the Nursing Profession at the 4th Annual Nurse of the Year Awards. The Nurse of the Year selection committee reviewed 297 nominations from 69 healthcare facilities throughout Ohio in 18 defined categories. We are proud to share our own Debra Stoner was one of the winners this year.
Ms. Stoner is an outstanding recipient who is a certified school nurse with her Masters in Nursing and national certification in School Nursing. She identifies and manages health barriers impacting academic success for students, including special needs medically fragile preschoolers. With a case load of over 1000 students in three buildings, she has a high level of expertise in assessing health needs, integrating families and school staff, and ensuring a safe and therapeutic school experience. She serves as the resource lead for the district nurses regarding new legislation, evidence-based practice, delegation and standards of school nursing practice. She has been an active member and leader in the Ohio Association of School Nurses for over 20 years in many board positions, and is currently serving as President. Her nominator writes: "She deserves recognition for her commitment to promoting the health and well-being of children with special needs in school and community settings".
The Nurse of the Year Awards is a state-wide event that recognizes exceptional nurses, creates awareness of professional excellence, and promotes the future of the nursing profession, all while helping to advance the mission of the March of Dimes: to improve the health of babies by preventing premature birth, birth defects, and infant mortality.
The March of Dimes recognizes that nurses are at the forefront of our mission and what we've accomplished over the last 78 years. The finalists were honored at a luncheon gala on Friday, December 9th at the Hyatt Regency in Columbus.