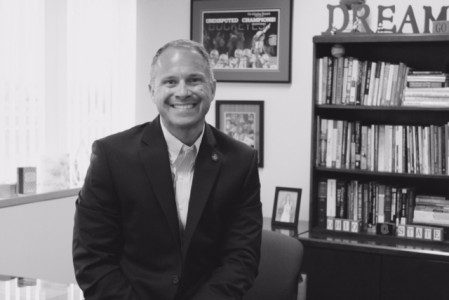 Teachers, Staff, and Hilliard Community:
As we celebrate the conclusion of another school year I would like to thank each of you for your many contributions to the Hilliard City School District. The accomplishments and successes of the 2015-16 school year are due to the collective efforts of our Hilliard Family.
Over the course of this year we have overcome tragedies and celebrated victories. We have cheered and we have cried. We have jumped for joy and hugged for comfort. Our Hilliard Community has come together and demonstrated why this is a great place to live, to learn, and to raise a family.
Public education continues to provide challenges; challenges we embrace in Hilliard as opportunities. Our efforts, the greatness of our district, are grounded in a belief of continued improvement and growth mindset. From our Values, Behaviors, and Outcome statements to our continued focus on culture . . . our work is just beginning. We are not reaching for a finish line; we enjoy our journey as we continue to grow together.
We must continue to seek balance. We strive for balance between time-proven teaching techniques and implementation of technology in the classroom. We seek balance between foundational knowledge all students must simply understand and the opportunities for voice and choice in educational environments. We are on a quest to balance student passion and student discipline. We search for opportunities to improve final exam schedules and attendance policies; we embrace the whole child and impart life skills in authentic environments.
Simply stated, our growth mindset is rooted in the belief that we will be better in the future. We embrace the belief that to be the best we must keep improving. To be the best for our students, to prepare each student for the future, we must keep growing and evolving ourselves. It is a process . . . thanks to each of you for being key components in this process. We are a team . . . a family . . . and our students can count on us each and every day.
As we take time in coming weeks to reflect, refresh, and relax we do so with confidence that the 2016-17 school year will be even better. We will learn from failures and tweak our successes. We will grow stronger as a team and overcome any obstacles placed in our way. This is the Hilliard Way . . . it starts and ends with the best team of educators, administrators, support staff, and families.
With thanks and pride,
John Marschhausen, Ph.D.