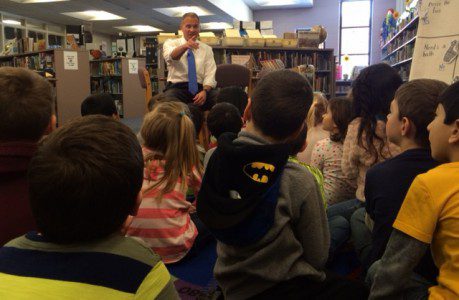 Our dream is to be able to offer all-day, every-day kindergarten to the families in the Hilliard Community. As educators we know there are tremendous benefits for most children with a full-day experience in kindergarten. We know that all-day kindergarten does not equate to "double" the instructional time. We would, of course, add lunch, recess, and specials to the kindergarten day. The additional time for socialization and soft-skill development is very valuable. The additional time for personalized learning and leveling the playing field is incredibly important.
In a recent poll of registered voters in the Hilliard City School District an impressive 74.9% of respondents believed we should offer all-day kindergarten. We have two factors that limit our ability to offer this to all families. First of all, we have a space issue. Simply stated, we need more classroom space. Second, we have a staff issue. We would need to add new teachers to our ranks and this costs additional dollars.
For the 2015-16 school year we will be piloting all-day kindergarten at J.W. Reason Elementary. We are able to operate this program, at no additional cost, because of the number of KLIP (Kindergarten Literacy Intervention Program) classes currently at J.W. Reason. KLIP is a program focused on early literacy intervention that has been offered to students that have qualified for this program based on early literacy assessments. Our KLIP program has been incredibly successful; we have strong data to support this program. Our plan with this pilot is to offer "KLIP like" services, but to larger groups in an all-day kindergarten experience. We will compare data from previous cohorts of students to our pilot group. If we can expand the KLIP program to include additional students, personalize instruction and target intervention in an all-day model, we are significantly closer to our goal of all-day kindergarten as an option for all Hilliard families.
The details of this program are still in the works. There are many logistical issues that must be addressed. I can share that we do not plan to open this program to other attendance areas. It is a limited pilot program. J.W. Reason was selected because of need, space, and current staffing. If successful, we plan to expand this program in the future as dollars and space permit.
While this is only a pilot we know there are some parents that enjoy and support the half-day kindergarten experience. In the future, our goal will be to offer half-day kindergarten as an option where demand exists. We will also make half-day kindergarten an option for students from other attendance areas if parents choose to keep students enrolled in the half-day program.
Our goal is to personalize educational options for every student. This must include choice for parents when possible, feasible, and economically justified. As we continue down this journey and investigate options to provide improved service to our students, families, and communities there will be some bumps along the way. We are committed to continuous improvement. We are committed to be responsible stewards of your tax dollars; to offer programs that provide a tremendous return on your investment in the education of our young people in Hilliard. This pilot program is just another example of the Hilliard City Schools seeking new opportunities to truly ensure that every student is Ready for Tomorrow.