Senator Stephanie Kunze made a special visit to The HUB to speak to students in the Art and Ecology and BETA courses. One focus of the Innovation Campus is the idea of community and building of a special smaller community within our buildings. Senator Kunze spoke to the students about the importance of representing the community, how the government impacts the building of community, and the role of art within communities themselves.

"A community without art is not a place we'd want to live." - Senator Kunze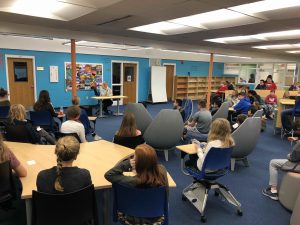 Amanda Schaeffer received a grant for her Art and Ecology class to welcome two separate artists to Campus to work on community related art projects during this school year. The students learned how the government has a role in supporting arts in our communities and how the grant that the class received is a function of the government's involvement.