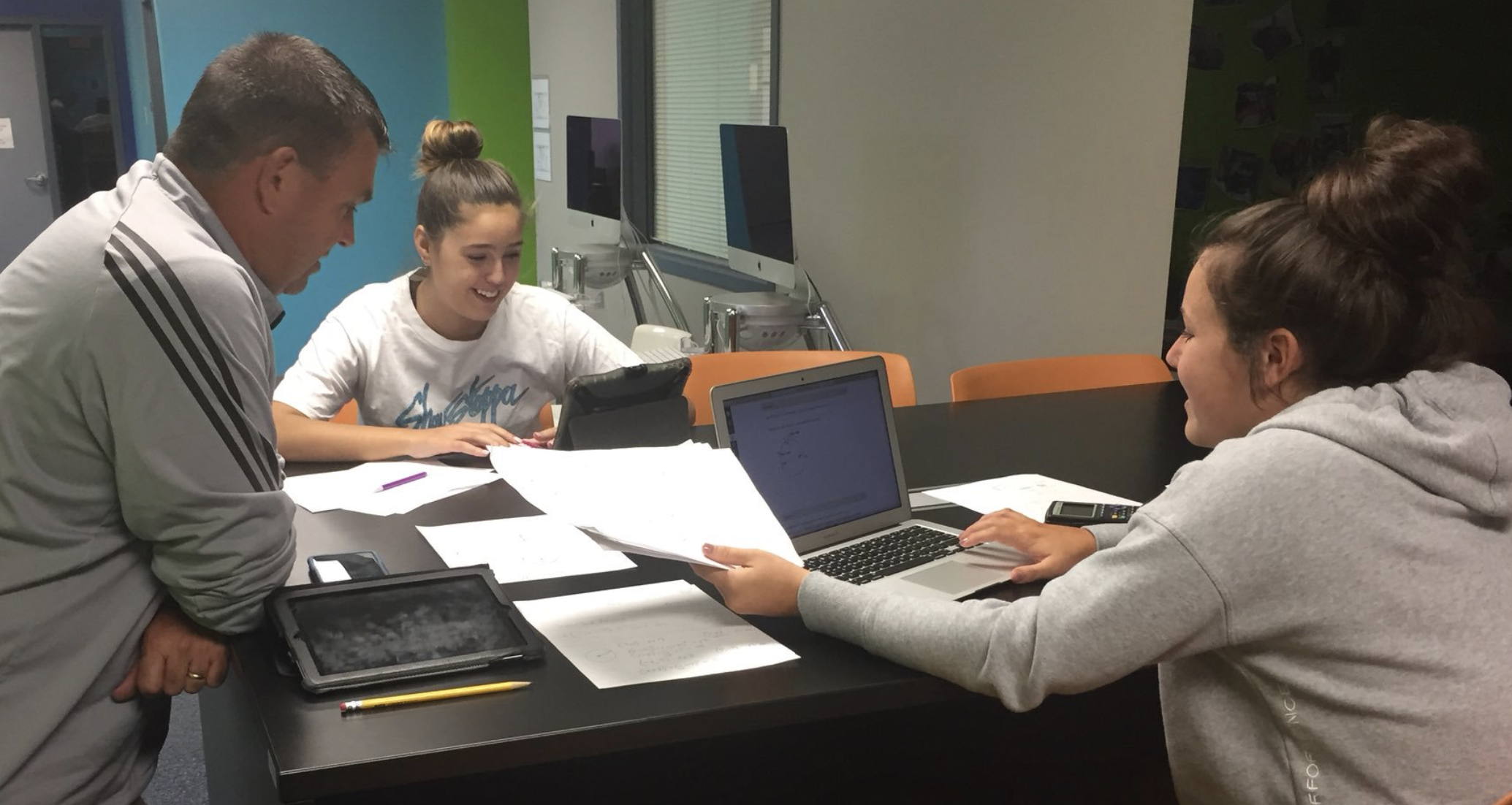 Online Learning in Hilliard is Different
The VISION of the Online Academy is to provide the best possible experience for students by offering revolutionary courses taught through collaborative and unique learning environments so that Hilliard City Schools will be a leader in online academic excellence and success rates.
Quality.  Every single one of our online courses was written by district teachers.  The courses align with what is taught in the classrooms and are designed to be engaging for students.  
Flexibility.  All of our courses offer students flexibility and choices surrounding when and how they learn. Most offer options for students to choose between self-directed learning options and more traditional lessons and activities.
Revolutionary.  And like all great teachers, our teachers are constantly striving to make their courses the best that they can be.  They collaborate with other teachers.  They learn about online best and innovative practices and how to implement them.  They keep connected with the latest tools and resources available for their students.  From semester to semester, Hilliard's online courses are in a constant state of revision and improvement in order to remain revolutionary.  
Teachers.  But the biggest thing that makes Hilliard's online program different is the teachers.  We have an incredibly dedicated team of teachers. They are the reason why our program has a annually passage rate consistently higher than 90%.  Our online teachers dedicate themselves to their students.  They do whatever it takes to make sure their students are successful.  That's not the case for all online teachers.  But that's how we do it in Hilliard.
Dedication.  What does that mean, exactly?  Sometimes that means a phone call home.  Sometimes it's one, two, or ten face-to-face meetings. Sometimes it's creating on-the-fly videos to answer questions.  And, truthfully, sometimes it's means hounding those students (and even their parents) until they "get it."  And "get it" they do.  We make sure of it.  Sometimes, our students do fail.  They fail tests.  They fail assignments.  Then they go back and learn it.  They do it again.  And then… they don't fail!  They learn. They pass.  They earn credits.  And, the best part, they succeed.  
For more information about online learning in Hilliard, please contact Jennifer Sayre or call (614) 921-4842.
Hilliard Online Learning Academy 
Contacts
Teacher

Courses

Work Space
ext = (614) 921-****

Cathy Gongwer
Cathy_Gongwer@hboe.org  

Careers & Money Management

ILC Bull Pen


(ext. 4815)

Kevin Dougherty
Kevin_Dougherty@hboe.org  

Science 7, Science 9, Biology, Scientific Principles of Sustainability, Environmental Science, Marine & Freshwater Ecosystems

ILC Bull Pen
(ext. 4815)

Brent Bower
Brent_Bower@hboe.org  

Math 8, GAC2, Algebra 2, Algebra 3

ILC  Bull Pen
(ext. 4815)

Jim VanWinkle
Jim_VanWinkle@hboe.org  

Math 7, Algebra 1, Geometry, GAC 1

ILC Dorm Room
(ext. 4812)

Jim Smith
James_Smith@hboe.org 


Social Studies 7, U.S. History, Government 2, American History through Film

ILC Dorm Room
(ext. 4812)

Troy Sayre
Troy_Sayre@hboe.org  

Social Studies 8, World Studies, Government 1

ILC  Dorm Room
(ext. 4812)

Mark Byard
Mark_Byard@hboe.org  

Language Arts 7, English 11, British Literature, Speech

ILC  Dorm Room
(ext. 4812)

Tara Thompson
Tara_Thompson@hboe.org  

Language Arts 8, English 9, English 10, Media Awareness, Leadership Development

ILC  Dorm Room
(ext. 4812)

John DiBlasio
John_DiBlasio@hboe.org 


Physical Education 1, 2

ILC Bull Pen
(ext. 4815)

Chris Payne
Christopher_Payne@hboe.org  

Physical Education 1, 2

ILC  Bull Pen
(ext. 4815)

Brett Norris
Brett_Norris@hboe.org  

Health

ILC  Dorm Room
(ext. 4812)

Nate Garrison
Nathan_Garrison@hboe.org 


Personal Finance, Digital Connections, College Fundamentals 

ILC Bull Pen
(ext. 4815)

Jodi Korbas
Jodi_Korbas@hboe.org 


Personal Finance, Digital Connections, College Fundamentals 

ILC Bull Pen
(ext. 4815)