The middle of October has arrived and with it comes all sorts of opportunities for our students to embrace. Some of our middle level students are benefiting from a grant that allows for a local artist, Stephanie Rond, to be in residence at the Hub for a few weeks this month. Our Art and Ecology teacher, Amanda Schaeffer, was awarded this grant through the Ohio Arts Council. She and Rond will work with students to create a series of murals and displays for the community to enjoy. We look forward to this year-long project and seeing the final product.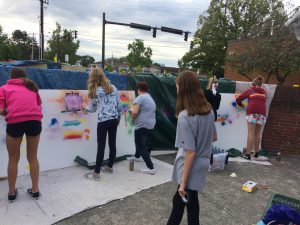 Also on the Campus, our high school students taking College Jump Start are learning the ins and outs of taking college courses. Whether through the assignments they are completing, the powerful relationships they are forming with their professors, or simply being on a college calendar, these juniors and seniors are getting yet another opportunity to demonstrate they are Ready for (their) Tomorrow.
Keep coming back to our website to stay current with all that is taking place on the Innovation Campus! In addition, follow us on Twitter (@HCSD_ILC) to see daily happenings throughout the days and weeks of the school year.
Check back weekly to the News and Info section for a view of the campus through the eyes of Mr. Vroom…