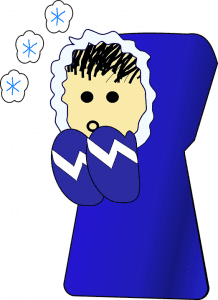 Why are so many districts closed or delayed due to cold weather yet Hilliard is in session?
Well, I know students don't like this answer, but we are consistent. Our benchmark for closing is around the -20 degrees with wind chill taken into account. Yes, -10 degrees is cold, but we must be consistent. Parents of younger students need to feel comfortable making plans for potential calamity days. When it's below zero we must bundle-up, wear layers, and be prepared for the cold weather of Central Ohio winters.
Also, in most cases a 2-hour delay actually makes the situation worse. Our busses run on schedules. When we delay, the busses experience different traffic conditions. This potentially changes the travel time and could expose students to extra time in the cold weather. For example, a Heritage Middle School bus at 7:00 AM hits different traffic patterns at 9:00 AM; this could delay the bus. The same bus may normally run a Crossing bus route at 8:00 AM; at 10:00 AM with a delay there could be issues for elementary students.
So, don't plan on delays for cold weather, plan on attending school unless the temperature dips below -20 with the wind chill, and embrace the beauty of our Ohio weather.
Why the change from semester exams to block schedules?
The world of education is changing. We know that memorization and regurgitation of information isn't what prepares our students for success in the future. Mastering static information isn't the goal of school; knowing what to do with the information is the key to the future.
Our goal is to find a balance – a balance between the foundational knowledge required for success and the application skills to utilize the knowledge in real ways. As adults, we don't perform on tests, we perform tasks and create. Our goal with our block schedules is to create balance. Yes, some classes (AP classes in particular) still requires tests and exams. It is the nature of some subjects. Many subjects offer opportunities for students to demonstrate mastery through other activities. We have an opportunity to access the best of both worlds.
This is the second year that we've moved away from the old exam schedule. We continue to improve; we are better this year than we were last year. It will be better next year than it is now; this is what we do in Hilliard. The old system was just that – old and outdated. We aren't going back. We aren't going to waste 6-8 days of potential instruction to give static tests. We are going to continue on this journey to elite. Hilliard students will continue to be better prepared for tomorrow as we continue to evolve as educators.
When will construction start on the new middle school?
We held the groundbreaking on the new facility in November. Our construction company just receive the final EPA permits needed to start site work on the project. You will see dirt moving soon with the hope that foundation work will begin in the spring. We are on-schedule for an August 2018 opening of the new building.
The Board of Education will receive monthly updates on the project's status. We will also be posting reports, timelines, and photographs on the district website beginning in January. Once things get rolling, it will move quickly. It's an exciting time for the district as we continue to expand and explore better ways to prepare students for success tomorrow.