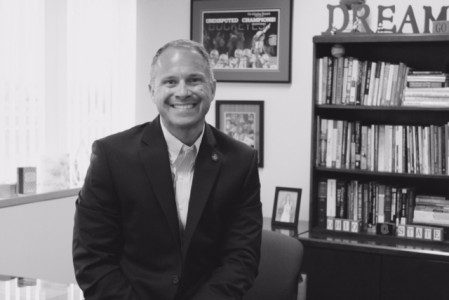 From time to time Superintendent John Marschhausen is asked similar questions from different members of the community. In an effort to share the answers with everyone he puts the questions here with his candid responses.
My son is a high school athlete. Our neighbor's kids are in the band and always selling things and asking for money. What is the district's position on mandatory fundraisers?
First of all, and I can't be any more direct, there are no mandatory fundraisers. If you feel your child is being pressured into selling items or asking for money, please contact your school's principal. We don't force student participation in fundraising activities.
With this said, the parents and volunteers that lead our booster organizations devote hundreds of hours to support our students. The booster organizations raise hundreds of thousands of dollars that is put directly back into our athletic, music, and other programs. We simply wouldn't have the quality of programs and number of opportunities without raising outside funds. Fundraising helps offset the cost of trips and camps, purchases big-ticket items like band trailers, and supports specialized consultants to take Hilliard's programs to a different level.
So, as with most things, we must use common sense and balance. Yes, fundraisers are part of successful programs. And yes, we must not go overboard. There are limits to what we can, and should, be spending. If a specific fundraising event conflicts with family plans or schoolwork, by all means, it isn't mandatory. If you are able to help at the car wash, with mulch sales, or with TAG Day, then you are creating additional opportunities for our students.
Why has the schedule and calendar for Board Meetings changed this year?
 The Board of Education agreed to try a new meeting schedule for this year. We are typically holding one "Business Meeting" and one "Work Session" each month. The Business Meeting is a typical meeting with student presentations, public participation, and a full agenda. During the Work Sessions we have limited agenda items, which create a real opportunity for discussion. This permits the district's Leadership Team, the five Board Members plus the Superintendent (CEO) and Treasurer (CFO), to dive deeper into topics that require discussion, questioning, and debate. We also hear from specific district leaders and outside experts at work sessions to add to the resources available before we make decisions.
The calendar for Board Meetings has changed this year in order to provide additional collaboration opportunities with the City of Hilliard. As Board and Council members are meeting more frequently to discuss alignment of district and city priorities, the new schedule permits cross-meeting attendance and participation. All of the residents of the City of Hilliard are part of the Hilliard School Family and we want to serve our constituents with transparency and fidelity.
I read there was legislation in the General Assembly that would require schools to start after Labor Day and end prior to Memorial Day. Is this true?
Yes, Senator Manning has reintroduced legislation SB 34 that would require schools to start after Labor Day beginning with the 2018-19 School Year.
Now, there is also a provision in the legislation that would permit the board of education to pass a resolution that permits school to start before Labor Day. It would require the Board to hold "a public hearing" on the calendar not later than thirty days before adopting the calendar. So, in essence, the calendar would still be up to the local district.
There are hundreds of schools in Ohio that still don't have air conditioning. For these districts, starting school in mid-August is a problem. There are also communities that depend on students as summer workers in the entertainment industry. Cedar Point, Kings Island, and other areas with amusement parks would all like a longer summer season.
For us in Hilliard, with all air-conditioned buildings, temperature is less of an issue. Also, and I say this when asked about calendars, 180 days is 180 days. Sure, we could start after Labor Day and still end before Memorial Day, but we wouldn't have a two-week winter break, we wouldn't have any spring break, and we would be in school on the Wednesday before Thanksgiving. Also, we know that "brain drain" is a serious issue over a long summer. This is especially true for economically disadvantaged students. The research is indisputable. We educate better with more frequent breaks in the school year and a reasonable break for summer.
So parents can plan – and the district can manage major construction projects – the Hilliard Board of Education has adopted calendars for the 2017-18 and 2018-19 school years.
Finally, let's be perfectly honest, we will never make everyone happy with the calendar. If you take multiple vacations or have family out of state, you may want longer breaks in the middle of the school year. If you prefer staying home and the routine of summer, you may want long, uninterrupted summer. I'm sure we will hear from both camps, and there is no right answer for everyone. In the end, our goal is to do what's best for Hilliard Schools . . . to meet the educational needs for our district as a whole.