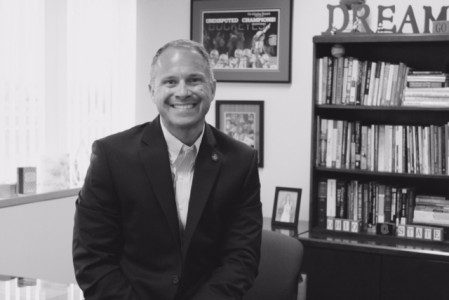 Tim Kight, Brian Kight, and the team from Focus 3 work in the corporate world and must come with a hefty price tag. How is the district able to afford bringing Focus 3 to Hilliard Schools?
Focus 3 and the Hilliard City School District are in partnership for the creation of R-Factor materials in the K-12 Education space. By working together, we have agreed to create material, lessons, and documents that can be used to spread this work to a larger client base in the future. We are blessed to work with Tim and Brian Kight; they have dedicated time, expertise, and talent to our district. We are proud to be partners. Our work as a district is an "in kind" payment for Focus 3's traditional fees; our agreement does not require any monetary payment to Focus 3. It is truly a great opportunity to live our mission – to ensure that every student is Ready for Tomorrow by learning and teaching every day.
This partnership includes all the work we are doing together. From the assemblies held for students to the R-Factor Boot Camp designed by our Hilliard team, from the free community sessions held every Sunday evening at Darby High School at 7:00 PM to the train-the-trainer sessions held for district leaders (adults and students alike) . . . we are working together to provide every student, teacher, administrator, and now our community with the skills to respond with purpose and intentionality to the events we face in life. This is just one example – one of many – of how the Hilliard City Schools add value to the entire teaching and learning experience.
I heard about a presentation at the Board Meeting about reduced paper costs. What are the details of that presentation?
Gary Heyder and Cliff Hetzel from our Business Department shared with the Board of Education that in our sixth, seventh, and eighth grade buildings last year the district realized a 40% reduction in copier volume and a 48% reduction in copier costs. This can be attributed to the full implementation of the One-2-One iPad program last year. In total, as a district we saved over $34,000. When we project these savings to the high schools for this current school year, we have the potential to save an additional $27,000 per year.
We aren't going "paperless" and our goal isn't for students to use their iPads for everything. Our goal is an appropriate balance. The world our students will inherit – the world that is their tomorrow – is a digital world. From paying bills to storage of medical records, from storing pictures to getting breaking news, it is a digital world. We live our mission – to prepare students to be Ready for Tomorrow. We fail if we only prepare students for today . . . it is about the journey to be better each and every day.  
One of my neighbors said that if the levy doesn't pass the district is threatening to add modular classrooms at Weaver and Station. Is this true?
The reality is our district enrollment continues to grow. Our housing market is strong because people are moving to Hilliard for the schools. The grade levels that "feel the pinch" the most are in the middle school level. Our sixth grade buildings, Station and Tharp, as well as our middle schools, Weaver in particular, are over the intended capacity.
Passage of Issue 58 will provide an additional 1,000 seats district wide. It isn't just about building a new middle school. It's about the shifting of students into the new building, then shifting sixth graders into the existing Memorial building, and then using the current Station building for additional flexible middle school and high school classes. With passage of the levy we will gain 1,000 seats for teaching and learning. We also avoid any immediate conversation of a fourth high school. It provides flexibility and learning space for personalized education.
If Issue 58 is not successful, we still need to address the growth issues we face as a district. This will include consideration of modular classrooms at Weaver and Station. Modular classrooms are costly and inefficient, but they serve a rudimentary purpose. So yes, if we are unable to add learning spaces through a new building we will need to explore the modular option.