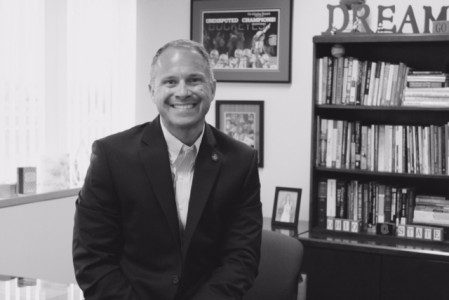 What is the R-Factor training the students are receiving this year?
The R-Factor is a system for handling daily events and personal responsibility. It develops self-discipline; it asks each of us to Press Pause and think about what we want to say and how we want to act. Tim and Brian Kight with Focus 3 have developed the R-Factor. Focus 3 and the Hilliard City School District is partnering to bring this leadership model to our students. Our team in Hilliard is creating age-specific teacher modules, with support from Tim and Brian Kight, for our students. We know that the life skills we teach our students – determination, perseverance, grit – must be balanced with the academic skills we provide in our classrooms. The Hilliard Way is a whole child approach to education . . . we truly prepare each and every student with the skills to be Ready for Tomorrow.
If you are interested in learning more about the R-Factor and the E + R = O formula, please attend our R-Factor Community Meetings beginning on Sunday, September 11, 2016 at 7pm in the Darby High School Performing Arts Center (PAC). These events will be every Sunday for 7 weeks – please join us.
In simple terms, what does the amendment to the Win-Win agreement mean?
As simply as it can be stated, if your property is currently part of the Hilliard School District then you are now permanently in the Hilliard School District. The original Win-Win agreement had to be "re-authorized" every six years. Now, by means of this agreement, the Hilliard and Columbus School Districts have agreed to stability through fixed district boundaries.
The original Territorial Annexation Agreement (commonly referred to as Win-Win) has served its purpose. It protected commercial tax base, provided for development in our suburban communities, and compensated Columbus for these protections. In recent years it has become increasingly evident that the agreement has served us well but it is time to move forward.
The Columbus, Westerville, Southwestern, and Hilliard City School Districts worked together to negotiate and craft these new terms. This agreement serves us well, it phases out payments to Columbus and saves the Hilliard taxpayers $3.45 million dollars over the next six years.
For you, our community, this continues to protect a large portion of our commercial tax base, it provides stability to our homeowners and security knowing you part of the Hilliard School Community, and it demonstrates cooperation and collaboration among our central Ohio public school districts.
What's Happening with KLIP (Kindergarten Literacy Intervention Program) this year?
As we expand our services to include more opportunities for all day kindergarten throughout the District, we continue to review all our programs. Last year we had expanded all-day kindergarten opportunities at some of our elementary schools. These expanded KLIP based literacy services are available to more students without jeopardizing academic gains. We have strong internal research to support the direction we are heading and expansion of all-day kindergarten when and where it is possible.
With passage of Issue 58 we hope to find ways to expand all day kindergarten to more of our elementary schools. We currently have waiting lists for all day Kindergarten. We never want to mandate all-day kindergarten; our hope is to someday make all-day kindergarten available to all families as an option. We have not eliminated KLIP as a program; it is still an option at several of our elementary buildings. We continue on our journey of improvement – seeking opportunities to expand services, personalize education, and do business better.
These changes are not the results of budget cuts. While yes, we must remain fiscally responsible with our tax payers' dollars, our top priority is to personalize education for each child. Furthermore, several of our buildings qualify for federal dollars through title programming. If an elementary school is a "title building" based on the number of economically disadvantaged students attending that building, additional services and programs may be available. These additional services are funded through federal grant dollars – not revenue collected from local or state taxes.
My high school student has an iPad, but still needs binders and notebooks. Why do we still need school supplies?
While yes, every student in our 6th through 12th grades uses an iPad on a daily basis for instruction, it isn't the only tool we use. The iPads are a tool – a powerful teaching and learning device that provides access to textbooks, Canvas, instructional Apps, communications tools, production tools, and the infinite resources available through the internet. Nevertheless, iPads will never replace great teachers, all written work, and (most importantly) face-to-face communications.
We must instill in our students the importance of looking someone in the eye, of developing communication skills, and of empathy that is only taught through personal relationships. This empathy – that isn't conveyed through text messages, tweets or posts – is essential in providing a well-rounded education. This empathy is required for working in teams and developing cohesive groups. For us, it is about balance.
Yes, as teaching and instruction evolve and as tools are developed we can expect less required supplies. But, we won't reach a time when we don't need paper and pens. We will still complete some tasks the old-fashioned way. For us, it's about balance. We are on a journey together . . . a journey to prepare today's students for success in the future. Our kindergarten students are the high school class of 2029 . . . college class of 2033. We are preparing these young people for the unpredictable world ahead and we will continue to change and grow with the world around us.