A New Network: The Global Network
Since the opening of the McVey Innovative Learning Center in 2013, courses offered on the Innovative Learning Campus have been organized into four networks:  College Jumpstart, Imagination, Personal Success, and Young Professionals. To begin the 2018-19 school year, a new network has been created to meet the needs of our student population and to showcase our commitment to preparing our learners to thrive in a rapidly changing global society.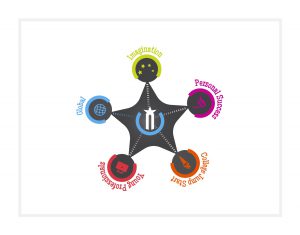 The Global Network will feature four areas of study:  American Sign Language (ASL), Community Action Planning, ELite – English Learners Unite, and German.
American Sign Language and German are World Languages already offered in Hilliard City Schools. These courses are being centralized on the Innovative Learning Campus to maximize the opportunities available to students districtwide.
Community Action Planning: Past, Present, Future is a social studies elective that will include the study of past individuals and groups who changed the world for the better. After learning about the past, students will look critically at their community and their world and will create community action plans to combat issues of their choice.
The ELite experience is for English Learners in grades 6-12 who need additional time and attention to be successful, both academically and socially.  Students will receive intensive English instruction and background knowledge/ vocabulary necessary to be successful in all classes.
The Global Network will aim to prepare all learners to think critically, observe skillfully, reflect thoughtfully, and participate meaningfully in authentic experiences both in the local community, as well as a global community.  Learn more about all of the courses by clicking on the course of study on our scheduling page.