Get Air Preschool Fundraiser!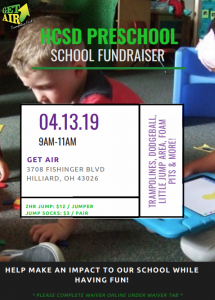 Hello everyone!! We are excited to do something a little different than our typical spirit nights! Join us Saturday, April 13 from 9-11 a.m. at Get Air Trampoline Park located at 3708 Fishinger Blvd. Hilliard, OH 43026. We are asking everyone to please sign up in advance so we know how many jumpers 46 inches and below we will have and how many jumpers above 46 inches we will have! They are very strict with keeping small jumpers in separate areas from big jumpers so this is very important! Also, this is before the park opens so the preschool will have it all to ourselves.
The prices are:
-2 hours for $12 per jumper
-$3 per pair of jump socks
Here is the link to fill out the waiver ahead of time to save a lot of time the morning of!! Thanks so much and we look forward to seeing you there!
https://www.signupgenius.com/go/70a0949a4a62fa1fa7-getair