Scraptastic
Friday, February 19th  -5pm-Midnight
Saturday, February 20th 9AM- 9PM
At Fellowship Baptist Chrurch
6720 Shier Rings Road Dublin, Ohio 43016
$50 Registration Fee includes:
Personal work space for 19 hrs.
Continental breakfast on Saturday
Mexican lunch on Saturday
Pizza dinner on Saturday
Goodie bags, door prizes &a raffle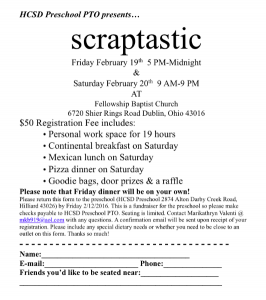 Click below to download flyer
Transfer Request forms will be available online February 1 – March 18, 2016 and they will also be available in all school buildings and at the District's Central Office.
Transfer forms must be completed and returned to: Mrs. Leslie McNaughton, Assistant Superintendent, 2140 Atlas Street, Columbus, OH 43228.
NEW STUDENT WELCOME CENTER

2140 Atlas Street

Columbus, OH 43228