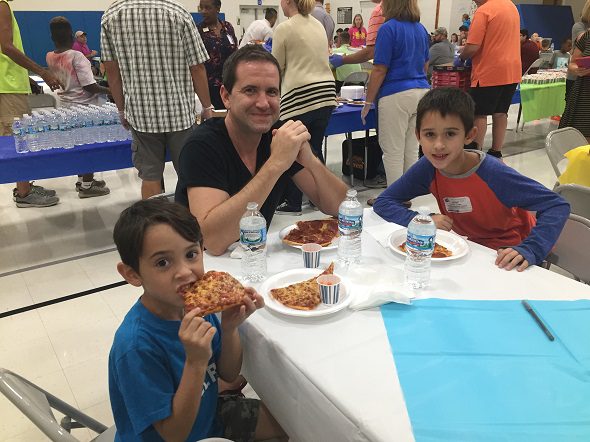 This week 250 Dads and their children attended a free pizza and informational event to kick off the second year of Horizon's Watchdog program.
Watchdogs is a father involvement program coordinated by the National Center for Fathering (www.fathers.com). The purpose of the program is to increase the presence of fathers in schools. The hope is that having more dads at Horizon accomplishes two goals: to provide positive male role models to the students, and to increase security by providing extra sets of eyes and ears in the building and playground area.
Dads are encouraged to volunteer one day over the course of the school year.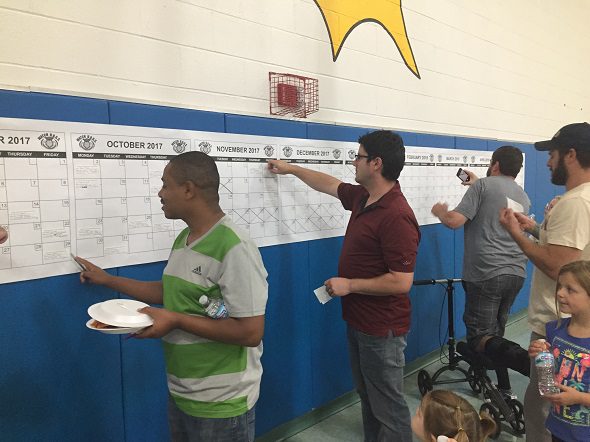 The Dads spend a memorable day with their children, during which they may read with struggling learners, assist the teacher with tasks, kick a ball on the playground, and assist in the cafeteria and media center. Last year, over 100 Horizon Dads participated in the program, resulting in over 1,000 Dad-hours donated to Horizon.
This year, the goal is to grow that number, and to celebrate the dad volunteers with a special "Wall of Fame" in the hallway, where pictures of dads and their children are proudly displayed.
As a result of their time at Horizon, many Dads report that they have a much better connection with their children, and a heightened sense of what their child's typical day looks like. This leads to enhanced relationships, as they have more to talk about with their kids at dinnertime, beyond the usual "How was your day?"