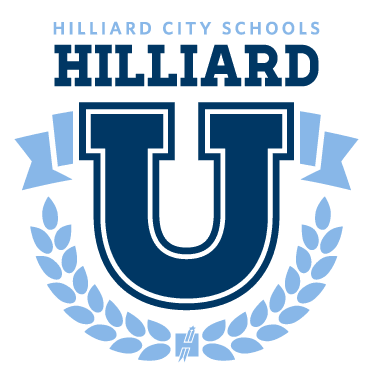 TUESDAY, Nov. 5th
DARBY HIGH SCHOOL – ALL SESSIONS
(OVERFLOW PARKING AT HERITAGE)
---
SCHEDULE OPTIONS: 7:30-2:30 or 8:30-3:30
SIGN IN/OUT PROCESS – Bring your Staff Badge. Enter Darby's Main Entrances only (Doors A-1 or B-6). Swipe badge at Mobile Badge Station once you enter the building. At the end of the day, be sure to swipe your badge again before you leave. If you forget your badge or don't have one, visit the Welcome Desk in front of the Commons to sign in and out.
COURSE CATALOG – Bring a Device. The Online Catalog option allows you to sort by session categories and/or your role in the district (Target Audience). Mark the sessions you want to attend and the catalog will generate a personalized schedule for you. NOTE: When searching the online catalog and saving preferences, you must use the device you will bring to Hilliard U in order for the website to remember your preferences. Switching devices will lose your saved data.
Online Course Catalog – updated in real-time if there are last-minute session changes.
Traditional Course Catalog – Quick View
Traditional Course Catalog – Detailed Version
Map of Darby High School – note the doors to enter and swipe badge are A-1 and B-6 only
SESSION HIGHLIGHTS – Please note the catalog column "Bring With You" for each session. Some sessions have a max. capacity and will be first-come, first-serve. Many sessions are offered more than once so hit the next session if you are closed out.
Featured sessions include:
KEYNOTE – 1:30 and 2:30 – "Lead Now" – Tim Kight, Founder, and CEO of Focus3, will be here to enhance our training on the Lead Now Framework. He will provide his expertise on how teachers are leaders in their classrooms and schools and why using this framework will make you a more effective educator. "You aren't a leader simply because you have a position and a title. You are a leader because of the mindset and skill-set you bring to your classroom and your students. Real leadership is about the person! This is a required session!
 "AED/CPR Awareness Training" – This is a mandatory session for all New Hires to the district. Attend!
Cyber-Security for Administrators – 12:30 with Rich Boettner. This is a mandatory session for administrators.
As well as sessions on Canvas, Design Thinking, Apple Classroom, Mastery Teaching, Naviance, SEL, Instructional Frameworks, Responsive Classroom, Assessments, and Safety Day Follow-up.
COLLABORATION ROOMS – Click the sign-up genius link to reserve a collaboration room with colleagues and apply what you learn. Rooms are only available from 7:30-8:20, 10:20-3:20. Please include all teachers' names and the general topic of collaboration.
BLOOD DRIVE -In honor of Hilliard City School's staff & families who have battled or are currently battling cancer. Instead of attending one PD session, staff can sign up in advance to give blood in the Field House. To schedule an appointment: call 1-800-RED CROSS or visit redcrossblood.org, enter sponsor code: HilliardU and choose the November 5th Blood Drive at Hilliard Darby HS. Choose the time you wish to give, create an account, and the Red Cross will send a confirmation email with your dates and time.
HUNGRY & THIRSTY – Coffee, Juice, Water, and Tea will be in the Commons – 7:30-9:30
Lunch is on your own. Food Trucks will be available from 10:20-1:15. Options include Por'ketta, Legacy Smokehouse, Pitabilities, Niko's Street Eats, Schmidts, and Philips.