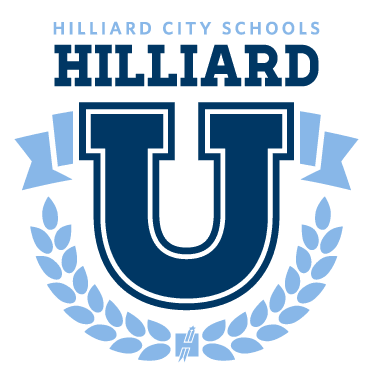 TUESDAY, NOVEMBER 6
DARBY HIGH SCHOOL – ALL SESSIONS
(OVERFLOW PARKING AT HERITAGE)
---
SCHEDULE OPTIONS: 7:30-2:30 or 8:30-3:30
SIGN IN/OUT PROCESS – Bring your Staff Badge. Enter Darby's Main Entrances only (Doors A-1 or B-6). Swipe badge at Mobile Badge Station once you enter the building. At the end of the day, be sure to swipe your badge again before you leave. There will be no exit tickets or session codes this year. If you forget your badge or don't have one, visit the Welcome Desk in front of the Commons to sign in and out.
COURSE CATALOG – Bring a Device. We have a new online catalog option this year which allows you to sort by session categories and/or your role in the district (Best For). Mark the sessions you want to attend and the catalog will generate a personalized schedule for you. NOTE: When searching the online catalog and saving preferences, you must use the device you will bring to Hilliard U in order for the website to remember your preferences. Switching devices will lose your saved data.
Online Course Catalog – updated in real time if there are last minute session changes.
Traditional Course Catalog – Quick View
Traditional Course Catalog – Detailed Version
Map of Darby High School – note the doors to enter and swipe badge are A-1 and B-6 only
SESSION HIGHLIGHTS – Please note the catalog column "Bring With You" for each session. Some sessions have a max. capacity and will be first come, first serve. Many sessions are offered more than once so hit the next session if you are closed out. Featured sessions include..
KEYNOTE – 8:30 and 10:30 – "Leading Innovative Teaching and Learning" – George Couros
"AED/CPR Awareness Training" – This is a mandatory session for all New Hires. Attend!
"Angst" – Watch the movie that will be shown to all of our high/middle school students.
As well as sessions on Canvas, Panorama, Apple Classroom, Coding, SEL, Personalization, Gaming, and Safety Day Follow-up.
COLLABORATION ROOMS – Click the sign-up genius link to reserve a collaboration room with colleagues and apply what you learn. Rooms are only available from 12:30 – 3:30. Please include all teachers' names and general topic of collaboration.
HUNGRY & THIRSTY – Coffee, Juice, Water, and Tea will be in the Commons – 7:30-9:30
Lunch is own your own. Food Trucks will be available from 10:20-1:15. Options include Por'ketta, Timmy's Meltdown, Pitabilities, Niko's Street Eats, Mojotago, and Kinetics.