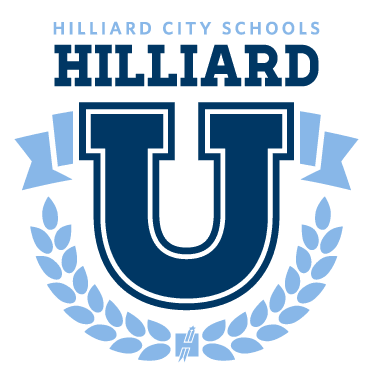 TUESDAY, March 17th
DARBY HIGH SCHOOL – ALL SESSIONS
DARBY HIGH SCHOOL – AM only
BUILDINGS – PM only
(OVERFLOW PARKING AT HERITAGE)
SCHEDULE:  All Secondary Staff will attend Hilliard U from 7:30-10:30am at Darby and then report to their home school. All Elementary Staff will attend HIlliard U from 8:30-11:30am at Darby and then report to their home school. 
SIGN IN/OUT PROCESS – Bring your Staff Badge. Enter Darby's Main Entrances only (Doors A-1 or B-6). Swipe badge at Mobile Badge Station once you enter the building. At the end of the day, each building will have a sign-out sheet to sign. If you forget your badge or don't have one, visit the Welcome Desk in front of the Commons to sign in and out.
COURSE CATALOG – Bring a Device. The Online Catalog option allows you to sort by session categories and/or your role in the district (Target Audience). Mark the sessions you want to attend and the catalog will generate a personalized schedule for you. NOTE: When searching the online catalog and saving preferences, you must use the device you will bring to Hilliard U in order for the website to remember your preferences. Switching devices will lose your saved data. 
SESSION HIGHLIGHTS – Please note the catalog column "Bring With You" for each session. Some sessions have a max. capacity and will be first come, first serve. Many sessions are offered more than once so hit the next session if you are closed out. Featured session topics under our common themes include..
Blended Learning: Flipgrid, Ohio Learning Hub, Digital Escape Rooms, Canvas, Apps, Coding, Iditarod, Virtual Reality
Instructional Framework: Math Chat, Mastery Rubrics, Writer's Notebook, Curriculum Roundtables
Student Engagement: How to Increase Student Engagement, I-Movie, Design Challenges, Classkick, Group Work in Math with SOLE, Innovative Collaboration
Student Needs: Catching Happiness, SIOP, Diversity in Gifted Education, Depth and Complexity
Staff Wellness: Meal Planning, Meditation, Natural Stress Relief, Emotional Resilience, Time Management, Sleep and Stress, Nutrition, Financial Management 
COLLABORATION ROOMS – Due to HIlliard U being only a half day of district provided PD, there will be no collaboration rooms. We encourage all staff to select three sessions to attend.