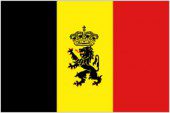 A supportive community . . . talented students . . . devoted parents . . . dedicated staff members . . . brilliant teachers . . . exceptional leaders . . . all working together to personalize education and strive to ensure every student is Ready for Tomorrow. We have so much to be proud of in the Hilliard City School District. We are truly blessed to have the opportunity to shape the future . . . to write our own story . . . each and every day. On Thursday, September 25th we will welcome visitors from Belgium, the U.S. State Department and the U.S. Department of Homeland Security to the Hilliard City School District.
They are visiting Hilliard City Schools because in the words of one official, "No one does it better than Hilliard City Schools." These visitors are interested in how Hilliard City Schools is engaging students, providing innovative practices for academic success and encouraging our youth to be good global citizens. We are proud to host our international visitors and are excited to share the Hilliard Way.
On Thursday, let's all wear our Hilliard Blue. Let's share our pride, our unity and the Hilliard Way. Teachers and students, drivers and principals, custodian and volunteers . . . let's all come together, celebrate our unity and wear blue to show we are #HilliardProud.