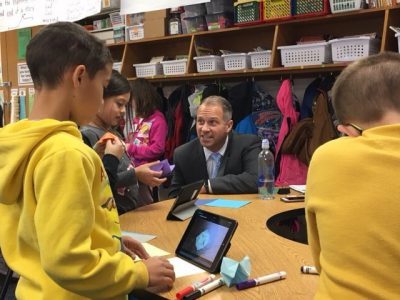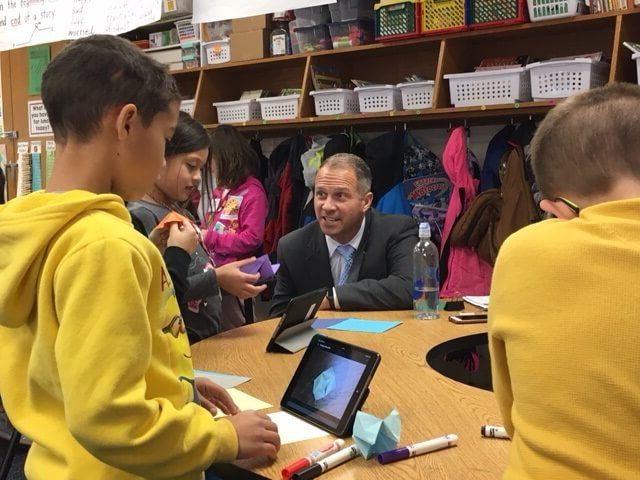 Over the past four years the Hilliard City School District has implemented the recommendations of the Technology Task Force. This visionary group of teachers, parents, administrators, and students charted a journey for the district. The task force recommendations have shaped where we are today and continues to shape our direction in the future.
Last week The Ohio State University and Apple Computer announced a new partnership between the university and Apple. Next year all incoming freshmen at Ohio State will be given iPad Pros, Apple Pencils, and smart keyboards. This is an expansion of already existing iPad programs at Ohio State including the Wexner Medical Center and The Ohio State Marching Band. In Hilliard, we are proud to have rolled-out our One-2-One iPad partnership with Apple. We are proud to be writing curriculum that is delivered on our iPads, saving millions of taxpayer dollars historically spent on textbooks and workbooks. The versatility and possibilities iPads provide students far exceeds the limitations of other devices. Like Ohio State University, the Hilliard City Schools chose iPads as the educational device that best prepares students to be Ready for Tomorrow.
Also like The Ohio State University, and as recommended by a committee of Hilliard educators, Hilliard moved to Canvas as our learning management system. Yes, there are other options available to schools, but Canvas is the cutting edge. Students at The Ohio State University, Bowling Green, Ohio University, and hundreds of other colleges and universities use Canvas as their learning management system of choice. Our students are prepared for success at the next level, are comfortable using a college level LMS, because of our efforts in Hilliard. Our students are Ready for Tomorrow because of the vision and mindset in Hilliard.
The Hilliard City Schools is also partnering with Apple Computer to train 80 teachers to incorporate "coding in the classroom" in grades 5-9. This training is on the same Swift program that will be used at Ohio State in their iOS lab. Hilliard students, as part of their experience in our middle level classrooms, will have a basic knowledge of coding using Swift. Hilliard students will be Ready for Tomorrow because of our commitment to the skills required for success in the future. Today, a basic knowledge of coding is considered innovative . . . tomorrow it will be required.
We are proud of our innovative mindset in Hilliard. We are intentional in our plans; we engage stakeholders and experts when we make decisions. We collaborate with exceptional business partners such as Apple Computer when we make decisions. We partner with higher educational institutions such as The Ohio State University and Columbus State Community College when preparing students for success in college . . . and for some we begin this college experience while they are still in high school.
Your district will continue to seek opportunities for innovation. Your district will continue to pay meticulous attention to the details, and cost, of our programming and planning. We will continue to streamline processes. We aren't adding programs – we are shifting and changing. Your district will continue to expect excellence and live our growth mindset. There is no finish line – we are on a journey. We will continue to lead, not follow, in the area of instruction and innovation.