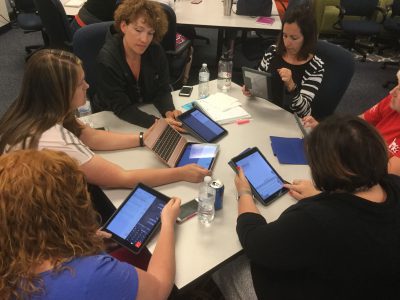 As part of this year's Summer Academy professional learning opportunities for Hilliard educators, principals from across the district were asked to select some of their teachers to come to the district's first-of-its-kind, Hilliard Apple Teacher Academy (HATA). This professional learning experience would allow teachers to come and work with Hilliard Technology staff as well as trainers from Apple to advance their skills and strategies as an One2One educator. Our own Technology Teachers, Kathy Parker Jones and Eric Lane are Apple Education Trainers for the district and conducted the training.
As a Hilliard Apple Teacher Academy graduate teachers learned how to…
use their iPad more efficiently for instructional purposes
create meaningful, learning experiences for students
become proficient in working with Apple iWorks apps
use the iPad as a tool for innovation and creativity
build a network of support with other Hilliard Apple Teachers
There were 42 educators who took part in this experience and the feedback was overwhelmingly positive. Teachers appreciated the experience and hands on time to learn and be creative with the tools that are right at their fingertips. The teachers who attended said this type of professional learning experience should be replicated in the future so that other teachers in the district could have the same experience.
The journey of getting our schools to a full One2One district began 3 years ago. Now we are 100% One2One from kindergarten students to seniors. The Apple Academy was created as a means of helping to get more teachers proficient and comfortable with teaching and learning using an iPad in their classroom instruction. The more knowledgeable our teachers are with the tools and how to effectively use them with students, the bigger the impact our One2One initiative will have across the board. Technology is no longer an "add on", but rather a resource that can change the way we teach and the way our students learn.