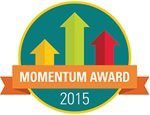 The Ohio Department of Education recognized the Hilliard City School District as one of fifty-three districts in Ohio for exceeding expectations in student growth in 2015 with the Momentum Award. According to the Ohio Department of Education website, "Schools must earn straight A's on all Value-Added measures on the report card."
Hilliard Superintendent Dr. John Marschhausen shares, "Hilliard's track record with student growth is unparalleled. With a diverse community – economically, socially, and ethnically – we have a tremendous responsibility as we grow our students to be Ready for Tomorrow." Hilliard has traditionally been one of the leaders in student growth measures over the past decade.
"Student growth is at the heart of personalization," shares Marschhausen. "We strive for every student to find their individual potential, to find their edge. Once students reach the edge of their ability we recalibrate and set new goals. Closing the gap isn't about comparing groups of students; closing the gap is about each student growing from where they are today to reaching their ultimate potential tomorrow."
Value-Added is just one of many measures the Hilliard City School District uses to measure performance. Stay turned for the release of the district's 3rd Annual Quality Profile in early October.