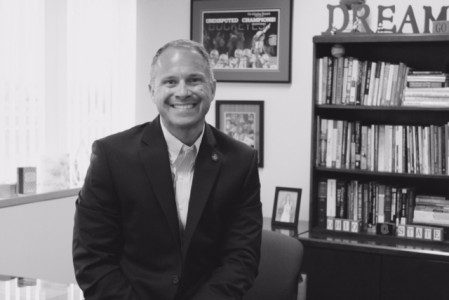 The Hilliard City School District continues to create experiences that prepare our students to be Ready for Tomorrow. We know that every student needs foundational academic skills that are the building blocks of success. Hilliard students will continue to learn to read and write – and yes to write on paper and pencil, to type on computers, and to communicate via a myriad of iPad applications. Our students must learn their mathematics facts and processes. Social studies, science, and fine arts are (and will continue to be) the bedrock of academic preparation. 
Ready for Tomorrow, for today's students, must go beyond traditional academic skills. Coding, writing instructions for computers is no longer simply something for programmers. Learning to code and learning to create apps is a skill, it's a language, our students will require in many future professions. Our district is committed to preparing our students for future success.
The Hilliard City School District is proud to announce a partnership with Apple Education to train 80 Hilliard teachers to bring Everyone Can Code to our classrooms. Apple Professional Learning Specialists will work together with our staff on a coding curriculum for students in grades 5-8. Our staff will learn how to use iPad coding apps and Apple teacher guides to plan lessons, engage students, and assess learning.
We are proud to bring coding into traditional classrooms to enhance the current curriculum. By embedding coding into traditional classrooms, we will be demonstrating to our students that coding isn't a skill that "lives" in isolation. Coding will be included in math and science classes . . . it is a skill that can be used every day. Learning to code unlocks creativity, develops problem-solving skills, and opens potential career paths.
Hilliard teachers will participate in the two-day workshop with Apple professionals in September and October. Students in grades 5-8 can expect to start seeing opportunities for extending learning experiences using coding, in the very near future. We are excited to bring coding experiences to our students as part of our continued commitment to prepare all students to be Ready for Tomorrow.
Hilliard and Apple Education continue a strong partnership that adds significant value to the educational experiences for our students. I've had the opportunity to engage in conversations with Emilio Umeoka, Vice President of Enterprise for Apple Education and to attend Apple Executive Briefings with select superintendents from across the country at Apple Headquarters. Rich Boettner, Hilliard's Chief Technology Officer, as well as our Hilliard Tech Team, has engaged Apple's professionals to make suggestions about iPad Management, App distribution, and connection processes. We are proud that this ongoing partnership benefits Hilliard's students but also improves the systems for educators across the country. Our shared pursuit of excellence and growth mindset creates a strong bond. It's all about preparing students for the future – getting them ready for a rapidly changing world with technology that drives many of the changes we will all experience in the future.