How Learning Modes Can Shift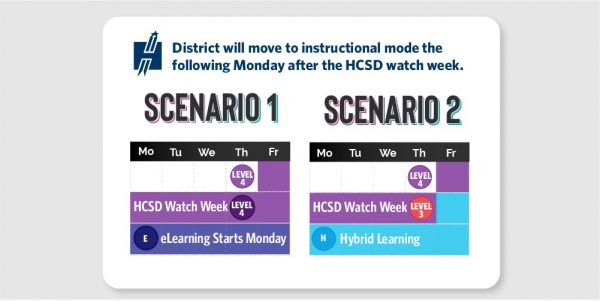 We understand and share your concerns about the increase in COVID-19 cases and its impact on learning. We are pleased that Hilliard Schools' cases, for now, are manageable and below state averages. Although Franklin County is within a watch designation toward purple, we are relying on the November 6 guidance from Franklin County Public Health that they believe in-school learning can be conducted when proper precautions, including masks and social distancing, are in place, and that teachers and students are safe in the classroom when these measures are enforced.
While this situation remains fluid, we want to maintain our hybrid model as long as it is practical and allowable under public health orders. Per the Board of Education Resolution on September 28, should Franklin County go to a purple designation, our district will enter a "watch week" in which we monitor the situation, evaluate our ability to continue safely in hybrid, and further engage our school community in next steps. Should we need or be required to transition to distance learning, this will provide the opportunity to give advance notice to our Hilliard families and minimize disruption.  If we remain in purple for two consecutive weeks, we will transfer to eLearning the following Monday.
We believe it is good for our students to have in-classroom instruction for the benefits of learning and student mental health. We have many considerations, including feedback from teachers, changing recommendations from public health officials, the possibility of statewide mandates, and continued input from our school families and community. This is a challenging time for all of us, and we will do what we can to be transparent and provide information about any changes to our plans as soon as possible.
Your patience and understanding are greatly appreciated.