Davidson Homecoming Week 2021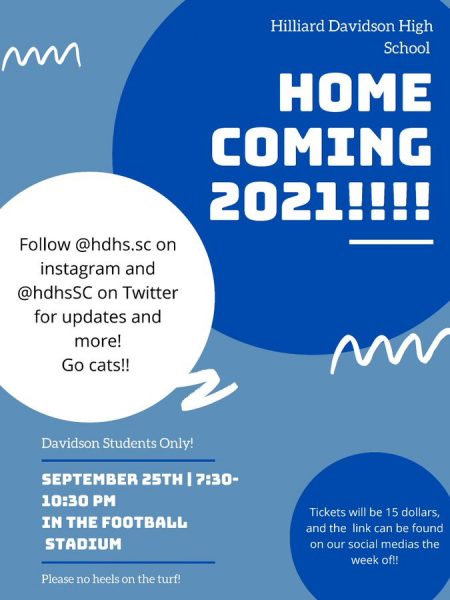 HOCO Sprit Week-Dress up Days 
Monday – PJ Day
Tuesday  – TWIN Day
Wednesday – Wacky Day (crazy outfit or hair)
Thursday – Biggest Fan Day (represent fav team/band/era)
Friday – NEON Day
Homecoming Dance Tickets
Due to COVID protocols, we have some changes to our dance this year.  The dance will be held outside in our Davidson Stadium  In addition, the dance is open to current Hilliard Davidson students ONLY. In the past, students have been allowed to bring a guest from outside of the Davidson student population, but for safety and contact tracing reasons, this will not be permitted this year.   The dance will be held light rain or shine (hard rain or dangerous weather may cause us to reschedule for a later date).
You can now purchase dance tickets online at https://hilliardschools.hometownticketing.com/embed/event/458.  Tickets are $15 each.  Students only have the option to purchase 1 ticket and your student ID is your log in.  There will be no CASH sales (online only) and no tickets will be sold at the gate.
We recognize that a part of the HOCO experience is dressing up.  We encourage everyone to dress up as we are still having a semi-formal event.  The one dress code exception is NO HIGH HEELS on the turf.  There will be a shoe check available (visitors concession stand). If high heels are a part of your outfit, we encourage you to bring flats, tennis shoes etc for the dancing.  In order to protect our turf field, no HIGH HEELS are permitted on the turf.
The dance will be Saturday, September 25, from 7:30 PM – 10:30 PM.  Students must enter and exit through the Visitors Gate. There is no re-entry.  The service road will be closed and we encourage parking and drop off/pick up to be in the Stadium Lot.
Movie on the Turf
Student Council will be hosting A Movie on the Turf night Wednesday, September 22, at 8:00 PM.  Gates open at 7:30 PM and we will be featuring the movie, "JUMANJI" !  Tickets are $5.00 (cash only) and can be purchased at lunch on Tuesday and Wednesday or at the gate. Grab some friends a blanket and come out to watch a movie under the stars!
Pep Rally
We will have a Pep Rally in the stadium on Friday September 24th, at the end of the school day.
Homecoming Game
The annual Homecoming Game will be on Friday, September 24 at 7:00 pm vs Olentangy Orange .  Our Homecoming ceremony recognizing our court and announcing our 2021 HOCO King and Queen will take place prior to the game at approximately 6:30 PM.
Follow @hdhs.sc on Instagram and @hdhsSC on Twitter for updates!