Bradley Family Connections – March 11-15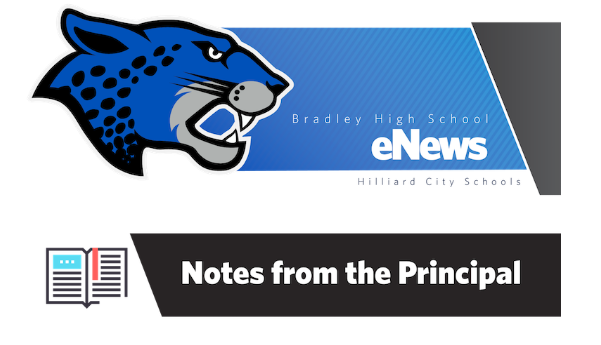 MARCH TESTING IS THIS WEEK
Our ACT/PreACT testing day is this week.  Tuesday March 12, students will be testing in the morning.  Please see the schedule below:
9th grade PreACT  Testing, 10th grade AIR Test study sessions, ,11th grade ACT Testing, 12th grade Capstone and College App Day – not required to be in school on 3/12
​​​​​​​IMPORTANT ATTENDANCE INFORMATION
If you are going to submit a vacation form for the days prior to or immediately after spring break, please have it to the Attendance office no later than noon on Thursday, March 14.  If not received by then, we can only mark the absence as excused.
Also, please remember that we do not dismiss a student with a phone call.  We must have a written note, or an email (***please give at least 30 minutes notice***) (HBRAttendance@hboe.org) for early dismissals if you send an email.  If no note or email, then you will need to come in the building to sign your student out.              Please do not call ahead to have them in the office.  We will send for them when you get here.  We thank you for respecting this procedure.

WHAT'S HAPPENING THIS WEEK AND BEYOND
March 14 @ 7 p.m.   Charity Choir Concert
March 15   End of the 3rd Grading Period
March 25 – 29   Spring Break
CLICK HERE for a calendar of events.

IMPORTANT INFORMATION FOR SENIORS
 GRADUATION INFORMATION
THIS DOCUMENT will help seniors understand information about graduation and any other important information before that big day in May!
Senior Scholarships are in full swing.  There are over 30 organizations in Hilliard alone giving money to Hilliard students and deadlines are fast approaching. The list can be found on your Naviance account, which includes descriptions, deadlines and links to the scholarships. There are also paper copies in the guidance office.  Check frequently for continuous additions.  CLICK HERE for details.
SENIOR YEARBOOK ADS
Trying to find the perfect way to express your love, pride, or just sheer congratulations to a special senior upon his/her graduation? Or maybe you're a senior who wants to say good-bye to someone?
The Bradley Yearbook Staff has just the thing!
PLACE A WISH AD IN THE YEARBOOK!
Get all the information you need on the yearbook website at http://is.gd/hbyearbook or onthis document.
Deadline for wish ads is Friday, May 3.

FRESH BAKED FUNDRAISER!
Do you love those rolls with cinnamon butter at Texas Roadhouse?  Bradley PTO and Texas Roadhouse are joining forces to raise some "dough".  CLICK HERE for more information.
OTHER WAYS TO DONATE
Are you too busy to participate in PTO events but you still want to help?  You can always donate to our PTO.  This money goes to helping pay for teacher meals and coffee carts.  The money also assists our students who are in need.  We hope you can help this important organization.  CLICK HERE for more information.

ATHLETIC BOOSTERS MULCH SALE 
The 9th Annual Hilliard Bradley Athletic Booster Association Mulch Sale  is officially underway.  Student athletes will canvass Hilliard Bradley neighborhoods on Saturday March 16th and Sunday March 17th.   Delivery: Saturday May 4th and the morning of Sunday, May 5th

Author Kate Fagan Visit 
After partnering in several community book talks Hilliard and Dublin City Schools are excited to bring the author of What Made Maddy Run: The Secret Struggles and Tragic Death of an All-American Teen to our districts to speak. Kate Fagan will be with us on Friday, March 15 at 7pm at Dublin Scioto High School.
Please let us know you will be attending by registering, although registration is not mandatory.
Ohio Teacher of the Year
We would like to congratulate Joy Grubbs, the music teacher at Station, for being selected as the 2019 Ohio Educational Theater Association – Teacher of the year. Here are a few words from the nomination form that won her the award:
Joy truly has a legacy in Hilliard theater beyond the sixth-grade.  She brings back former students as assistant directors, stage managers or leads for the sixth-graders on technical crew. These students have a change to grow as professionals and leaders. But it's not only students that Joy engages. The whole family participates in Build Days to make sets, props and costumes. This gives parents an investment beyond taxi-ing to and from rehearsals or watching the end product.