Bradley eNews – September 9-13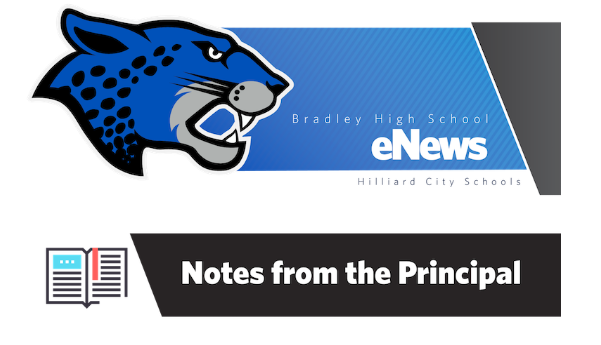 A REMINDER ABOUT ATTENDANCE
At Bradley High School, one of our greatest priorities is ensuring that all our students arrive safely at school each and every day. This year we are introducing a new, more efficient student absence reporting system called School Messenger Attendance. This new system will reduce the time it takes to verify student attendance, make it easy for you to report your child's absence and easy for staff to respond to unexplained student absences.
With School Messenger Attendance, you are asked to report your child's absence in advance using any of these three convenient methods:
Using your mobile device, download and install the SchoolMessenger app from the Apple App Store or Google Play Store. The first time you use the app, select Sign Up to create your account. Select Attendance then Report an Absence.
Use the School Messenger Attendance website, https://go.schoolmessenger.com. The first time you use the website, select Sign Up to create your account. Select Attendance then Report an Absence.
Call the toll-free number 844-413-8801 to report an absence using the automated phone system.
These options are available 24 hours/day, 7 days a week.  Future absences can be reported at any time.
If you forget to report an absence, you will receive an automated notification.  The automated notification system will attempt to contact parents at multiple contact points until a reason is submitted for the absence.  We will be using the contact information in Home Access, so it is vital your information is correct. If our system is unable to reach the designated contacts, office staff will follow up.
If you report your child's absence in advance using the School Messenger mobile app, website, or toll-free number you will NOT receive these notifications.

WHAT'S HAPPENING AT BRADLEY
Tuesday 9/10   Theater Booster Meeting @ 7 p.m.
Tuesday 9/10   ILC Open House @ 6:30 p.m. @ ILC & HUB
Thursday 9/19  Out of State College Meeting @ 6:30 p.m. @ Bradley
Week of September 23   Homecoming Week
CLICK HERE to view our Bradley calendar for all events.

BRADLEY LEADERSHIP RETREAT
The second annual Bradley Leadership Retreat will take place from Saturday, November 23rd – Sunday, November 24th at YMCA Camp Willson. This two-day, overnight retreat will give 100 students the opportunity to strengthen their leadership skills through spending quality time with fellow jaguars, attending workshops led by Bradley staff members, and hearing from a keynote speaker. This retreat will work to develop confidence, courage, communication, cooperation, creativity, and passion in students who attend.
Applications are open until this Friday, September 13th! Paper applications can be found in the main office, and online applications can be found in student class Canvas pages in the "Leadership Retreat 2019!" module. 
For more information, click here: https://docs.google.com/presentation/d/1ZkO05isZ7v8sitS_bSOI6sILfS41HYHQn21vGrqxDo0/edit?usp=sharing 
Questions? Contact Mrs. Pressler-Cowles or Ms. Bergstrom. 
SCHOOL COUNSELOR INFORMATION
Check out our School Counseling WEBSITE HERE.
On this site, you will find information on how to schedule a time to see your School Counselor and also see lots of college information.  Seniors – you will also be able to stay up to date on scholarships and other graduation information as they become available.
SENIORS – CLASS OF 2020
Senior picture submissions are being accepted NOW for the 2019-2020 Yearbook! The deadline for submissions is Friday, December 13th, 2019, but why wait? Upload your senior photo NOW by going to our Bradley Yearbook website at http://is.gd/hbyearbook and filling out the google form linked under the "Senior Pictures" tab. The sooner the better!
If you want to purchase a yearbook for the 2019/2020 school year, go to  www.jostensyearbooks.com.\
ILC AND HUB INFORMATION
The Innovation Campus will be holding an Open House on September 10th from 6:30-7:30. Families are welcome to come and visit our spaces at either The Hub or The ILC. There will not be a bell schedule for parents to follow- teachers will available for the hour to speak with families and answer any questions as needed.
The Innovation Campus will also be holding its fall conference night on Tuesday, October 8th. Please look for communication from your child's teacher about scheduling a time to meet. We look forward to seeing you on the 8th!

A MESSAGE FROM OUR PTO
As a Bradley parent, you are automatically a member of PTO.  Please consider volunteering or donate monetarily.   Your donations significantly support the great work that our PTO does for our students and teachers.  CLICK HERE  for more information on how to help.

Registration Open for Discover HCS – A Parent University
You can now look at our entire course catalog for Discover HCS taking place in September 28 at Darby High School.  Sessions run from 8 am until 12:30 pm.  You can discover more about creating a healthy tech/life balance, how to raise an adult, elementary Reading and Math, design thinking and the gift of failure.  Our keynote for the day is Dr. Lisa Hinkelman, Founder and CEO of ROX.  Her session is, "A Confidence Crisis: What 10,678 Girls Think about Stress, Social Media, School and Their Futures."
Please be sure to register early, as we expect sessions to fill fast.
Applications for Free/Reduced Lunches
Applications for free/reduced lunch need to be submitted each year to avoid a lapse in coverage from last year. You can find more information and submit an application online today.