Bradley eNews – September 3-6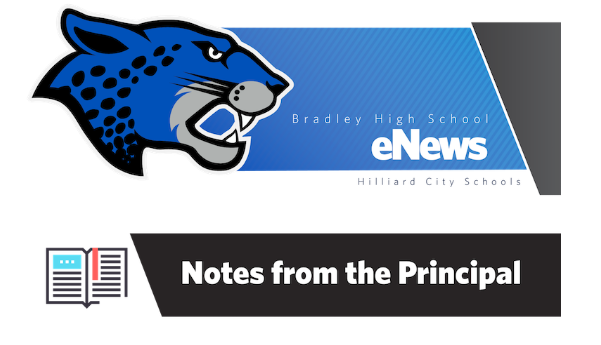 OPEN HOUSE IS THURSDAY SEPTEMBER 5
The 2019-2020 school year is off to a great start!  Our students and staff have successfully transitioned into the new school year and are already focused on excellence.  We are eager to share that with you.
On Thursday September 5, at 7:00 p.m., we invite you to come "Back to School" for our Open House event.  This is a great opportunity for you to meet our teachers, tour the building, and experience a taste of your student's daily schedule.  Most importantly, you will have an opportunity to see and hear learning expectations for the year directly from your child's teachers.
We expect a very large crowd, so we would encourage you to arrive early. We also ask that you have your child write down his/her schedule (including room numbers) to bring with you that evening.  You can also go to https://homeaccess.hboe.org to print it.  If you do not have the capability of getting the schedule ahead of time, we will have them available in the main office starting at 6:30 p.m.
Beginning at 7:00 p.m. we will go through a shortened version of our school day.  We will spend approximately ten minutes in each class period.  If your child has a zero period class, that will begin at 6:45 p.m.  We expect to conclude the evening at approximately 8:45 p.m.
We look forward to our time together on Tuesday September 5, at 7:00 p.m.

WHAT'S HAPPENING AT BRADLEY
September 5 @ 7 p.m.  Open House
CLICK HERE to view our Bradley calendar for all events.

SCHOOL COUNSELOR INFORMATION
Check out our School Counseling WEBSITE HERE.
On this site, you will find information on how to schedule a time to see your School Counselor and also see lots of college information.  Seniors – you will also be able to stay up to date on scholarships and other graduation information as they become available.
SENIORS – CLASS OF 2020
Senior picture submissions are being accepted NOW for the 2019-2020 Yearbook! The deadline for submissions is Friday, December 13th, 2019, but why wait? Upload your senior photo NOW by going to our Bradley Yearbook website at http://is.gd/hbyearbook and filling out the google form linked under the "Senior Pictures" tab. The sooner the better!
If you want to purchase a yearbook for the 2019/2020 school year, go to  www.jostensyearbooks.com.

A MESSAGE FROM OUR PTO
As a Bradley parent, you are automatically a member of PTO.  Please consider volunteering or donate monetarily.   Your donations significantly support the great work that our PTO does for our students and teachers.  CLICK HERE  for more information on how to help.

Discover HCS – A Parent University
Please save the date for our next Parent University Event on September 28 at Darby High School from 8 am – 12:30 pm. We invite you to come and Discover Hilliard City Schools, everything from academics to mindset to interests.  The CEO and Founder of ROX will be our keynote.  You can come for one session or stay for several.  Registration begins September 5 on our web page.
Community Food Drive
As part of a fun rivalry for the Darby vs. Davidson football game on September 6, community members can donate food in one of the donation boxes in front of Coffee Connections, Destination Hilliard and Pulp at Mill Run.  Boxes will be there Monday, September 2 to Friday, September 6. The night of the game there will be stations at each gate where you can make a food or monetary donation.
Most needed items include mini jars of peanut butter, single-serve Mac and cheese cups, small boxes of cereal and granola bars.  You can email questions to DarbyFoodPantry@gmail.com.

Applications for Free/Reduced Lunches
Applications for free/reduced lunch need to be submitted each year to avoid a lapse in coverage from last year. You can find more information and submit an application onlinetoday.