Bradley Family Connection – May 28-31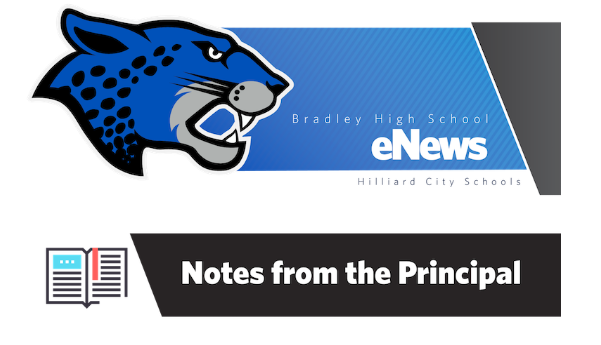 CONGRATULATIONS CLASS OF 2019!  
WE WILL MISS YOU!!
______________________________________________
THE END OF THE SCHOOL YEAR IS HERE!
End of the Semester Assessment schedule for grades 9-11 begins this week.            The schedule is below.  There will be review sessions during the zero period assessment time.  The teacher will have more details.
Semester Assessment Information 2019
MESSAGE ABOUT AP COURSES FOR NEXT YEAR
There are a few changes with AP courses for next year.  We will be meeting with students during our Assessment Week to explain these changes.  One major change is that students are required to sign up for the AP exam earlier in the year. We encourage students to challenge themselves.  We want them to be sure they are committed to the rigor of an AP course.  We would like for students to decide before they leave for the summer so our counselors can work to change their schedules.  If students decide to drop an AP course in August, there will be a new process they need to complete.   See below for more information:
AP courses are more rigorous and can involve more outside work.  For some AP courses, there is summer work that is required.  We ask that students decide before May 31 if they would like to drop the AP course for next year.  Due to scheduling concerns, it is very hard to make this change in August.  There is no guarantee that you will be permitted to drop the course in August.  If you decide that you no longer want to be in the AP course in August,  you must follow these steps:
Students who want to drop an AP course at the start of the school year must schedule a conference with an administrator to justify reasoning for removal from the class.  
The student's Guardian must communicate awareness of removal from the course with the teacher as well. This may be shown in writing.  This communication must be presented to the administrator.
Please talk with your child about this important decision.  If your child choose to make a change by May 31, have your child contact the school counselor asap.   Your child will simply just choose another course.

WHAT'S HAPPENING THIS WEEK AND BEYOND
May 29 – 31   Assessment Schedule
May 31         Last Day Grades 9 – 11
_______________________________________________
August 12     Jag Days – 9th grade
August 13      Jag Days – 10-12th grades
August 13      9th grade Parent Night @ 7 p.m.
August 21     First Day of School
CLICK HERE for a more detailed calendar of events.

WAYS TO DONATE
Are you too busy to participate in PTO events but you still want to help?  You can always donate to our PTO.  This money goes to helping pay for teacher meals and coffee carts.  The money also assists our students who are in need.  We hope you can help this important organization.  CLICK HERE for more information.

Summer Lunch Camp
 Once again Hilliard Schools will partner with SON Ministries for a summer lunch campJune 12 – August 2.  Each day will include games, art, special guests, summer reading support and a healthy lunch, (no pork products.)
Part of the camp includes the 'Business/Entrepreneurial Summer Camp' where children run their very own business learning valuable skills for their futures.  There is no cost for camp or lunch, but you need to register.
Register at Scioto Darby Elementary School for all camp locations:
Wednesday, June 5th from 5:30 – 7:30 p.m. – 5380 Scioto Darby Rd. Hilliard 43026
This is for children who have completed kindergarten and older only.  Limited busing available from some Hilliard apartment complexes.  Teens can volunteer, earn service hours and eat a free nutritious lunch too!
Columbus Library's Free Summer Reading Challenge
Every child needs to read during the summer so they don't lose important skills for school. Sign your child up for Columbus Metropolitan Library's Summer Reading Challenge online or at any Columbus Metropolitan Library location starting Saturday, June 1. Learn more at columbuslibrary.org/summerreading.
COTA Summer Specials for Students
COTA would love to share two amazing summer mobility opportunities with your students and families – Zoo Bus and Summer Youth Pass.
Zoo Bus is offered weekdays May 28th – August 30th, weekends and holidays May 11 – September 2 at just $2 each way. Riding Zoo Bus also enables discounts on Zoo and Zoombezi Bay admission.
The Summer Youth Pass is a great program that provides youth ages 17 and younger with the ability to explore Columbus all summer for just $62! Students can get to the pool, an internship, soccer practice, the zoo and all their favorite summertime destination from June 1s through August 31st.
Hilliard Night with the Crew
There are a limited number of tickets left for the Hilliard School Night with the Crew. We have some tickets available to buy for the Saturday August 10 match between the Crew SC and FC Cincinnati! We have the opportunity to buy discounted tickets and be a part of history.
With the purchase of your ticket you can be on the field to help bring the Crew on through a fan tunnel. The game is at Mapfre Stadium and begins at 7:30pm. Tickets begin at $34.
Take advantage of this exclusive Hilliard City Schools offer as Crew SC takes on rival FC Cincinnati for the first time ever in MLS play! Game is expected to sell out!
Fourth of July Parade Changes     
The City of Hilliard has asked us to share some changes to the fourth of July parade this year.  The first important change is the start time.  This year it will begin at 9am.  Another big change is mandatory registration.  You will not be allowed to participate if you don't sign up before the event.  You can find all the information on their web page.
More Summer Camps and Fun
Remember to check out our electronic flyers for great information on summer camps and events.  This page is updated constantly as we get more events.