Bradley Family Connection – May 13-17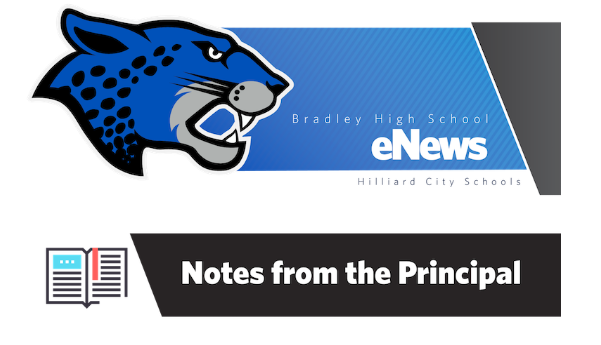 THE END OF THE SCHOOL YEAR IS APPROACHING
We will have our End of the Semester Assessment schedule for grades 9-11              May 29 – 31.  The schedule is below.  There will be no option to take any assessments early.
END OF YEAR ASSESSMENT SCHEDULE

WHAT'S HAPPENING THIS WEEK AND BEYOND
May 6 -17    AP Testing
May 17      SENIORS Last Day
May 20       Athletic Awards Ceremony – by invitation  7:30 a.m.
May 21      Mandatory Graduation Rehearsal  10 a.m. in Field House (breakfast at 8:30 a.m.)
May 22      Bradley Graduation @ The Schottenstein Center   7 p.m.
May 29 – 31   Assessment Schedule
May 31         Last Day Grades 9 – 11
CLICK HERE for a more detailed calendar of events.

IMPORTANT INFORMATION FOR SENIORS
GRADUATION INFORMATION
THIS DOCUMENT will help seniors understand information about graduation and any other important information before that big day in May!

WAYS TO DONATE
Are you too busy to participate in PTO events but you still want to help?  You can always donate to our PTO.  This money goes to helping pay for teacher meals and coffee carts.  The money also assists our students who are in need.  We hope you can help this important organization.  CLICK HERE for more information.

Fourth of July Parade Changes
The City of Hilliard has asked us to share some changes to the fourth of July parade this year.  The first important change is the start time.  This year it will begin at 9am.  Another big change is mandatory registration.  You will not be allowed to participate if you don't sign up before the event.  You can find all the information on their web page.
Summer Camps and Fun
Remember to check out our electronic flyers for great information on summer camps and events.  This page is updated constantly as we get more events.