Bradley Family Connection – March 4-8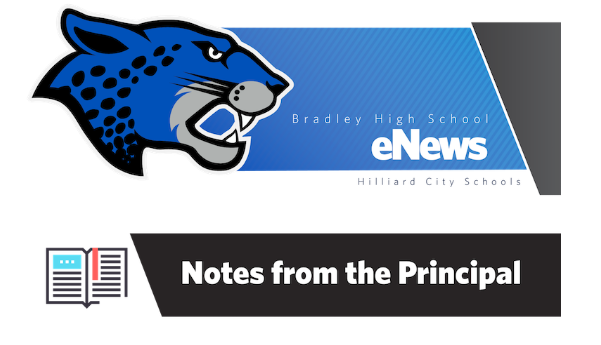 3RD GRADING PERIOD WRAPPING UP
It's hard to believe that the 3rd grading period is almost over.  The last day for the 3rd quarter is March 15.  This is a great time to check HOME ACCESS to make sure your child is current with all assignments. The 4th grading period starts on March 18.

WHAT'S HAPPENING THIS WEEK AND BEYOND
March 5   PTO Meeting @ 7 p.m. in Bradley Media Center
March 9   "BE WELL:  A Parent University Event" with Dublin Schools  CLICK HERE for more information. Deadline to register is Monday, March 4.
March 15   End of the 3rd Grading Period
March 25 – 29   Spring Break
CLICK HERE for a calendar of events.

IMPORTANT INFORMATION FOR SENIORS
As we move further into the school year, we will periodically post information for our seniors and senior parents.  THIS DOCUMENT will provide you with information to start planning for that big day in May!
Senior Scholarships are in full swing.  There are over 30 organizations in Hilliard alone giving money to Hilliard students and deadlines are fast approaching. The list can be found on your Naviance account, which includes descriptions, deadlines and links to the scholarships. There are also paper copies in the guidance office.  Check frequently for continuous additions.  CLICK HERE for details.

FRESH BAKED FUNDRAISER!
Do you love those rolls with cinnamon butter at Texas Roadhouse?  Bradley PTO and Texas Roadhouse are joining forces to raise some "dough".  CLICK HERE for more information.
OTHER WAYS TO DONATE
Are you too busy to participate in PTO events but you still want to help?  You can always donate to our PTO.  This money goes to helping pay for teacher meals and coffee carts.  The money also assists our students who are in need.  We hope you can help this important organization.  CLICK HERE for more information.

ATHLETIC BOOSTERS MULCH SALE IS APPROACHING
The 9th Annual Hilliard Bradley Athletic Booster Association Mulch Sale will officially kick off Wednesday March 6th.   Student athletes will canvass Hilliard Bradley neighborhoods on Saturday March 16th and Sunday March 17th.   Delivery: Saturday May 4th and the morning of Sunday, May 5th

Superintendent's Listening Tour
The Hilliard City School District is pleased to announce the first Superintendent's Listening Tour intentionally scheduled to hear our community's concerns about specific topics of interest. This tour is designed to hear from our constituents about elementary reconfiguration at Britton/Norwich & Alton Darby/Darby Creek and special education services. You can find the dates and times on our webpage.
Calamity Day Reminder
The school district has used four calamity days this year.  While it has been several years since the district has missed school this many days due to inclement weather, it is important to plan ahead in the event of additional winter weather.
If we exceed five (5) calamity days, days will be added to the end of the school year. A potential sixth calamity day will be made-up on Monday, June 3, 2019. Days seven through ten will continue the week of June 3-7, 2019. In the event the district exceeds five calamity days, seniors will be required to attend school the week of graduation to make-up educational time.
We are hopeful the winter weather and extreme cold is behind us. We simply want to share this information so families can plan accordingly. High School and Middle School final exams will be held the final three days of the school year.
Be Well Registration Monday Deadline
Priority Registration is still open for "Be Well: A Parent University Event by Dublin and Hilliard City Schools" Choose from more than 100 sessions structured around student mental health and well-being. You can register for sessions in either district.  This free event will take place at Darby High School and the Dublin Emerald Campus.  You can come for one session or stay all day!  Lunch will be provided free of charge for those registering with us.  Priority registration will close March 4.
Hilliard Education Foundation Denim & Diamonds Event
Come dance the night away while making a difference for Hilliard Schools' students at the fantastic Denim & Diamonds event, benefiting the Hilliard Education Foundation.  This fun filled evening features:
Live band, The Martini Affair;
Heavy Hors D 'Oeuvres;
Cash bar; and,
Silent auction.
The event takes place on Friday, March 8 from 7-11 p.m. at the Columbus Vue.  To purchase tickets or view sponsorship opportunities please visit the HEF webpage.