Bradley Family Connection – March 18-22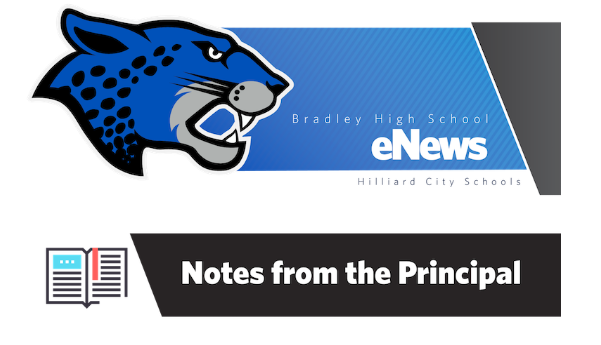 IMPORTANT ATTENDANCE INFORMATION
If you are going to submit a vacation form for the days prior to or immediately after spring break, please have it to the Attendance office no later than noon on Thursday, March 14.  If not received by then, we can only mark the absence as excused.
Also, please remember that we do not dismiss a student with a phone call.  We must have a written note, or an email (***please give at least 30 minutes notice***) (HBRAttendance@hboe.org) for early dismissals if you send an email.  If no note or email, then you will need to come in the building to sign your student out.              Please do not call ahead to have them in the office.  We will send for them when you get here.  We thank you for respecting this procedure.

WHAT'S HAPPENING THIS WEEK AND BEYOND
March 25 – 29   Spring Break
CLICK HERE for a calendar of events.

IMPORTANT INFORMATION FOR SENIORS
 GRADUATION INFORMATION
THIS DOCUMENT will help seniors understand information about graduation and any other important information before that big day in May!
Senior Scholarships are in full swing.  There are over 30 organizations in Hilliard alone giving money to Hilliard students and deadlines are fast approaching. The list can be found on your Naviance account, which includes descriptions, deadlines and links to the scholarships. There are also paper copies in the guidance office.  Check frequently for continuous additions.  CLICK HERE for details.
SENIOR YEARBOOK ADS
Trying to find the perfect way to express your love, pride, or just sheer congratulations to a special senior upon his/her graduation? Or maybe you're a senior who wants to say good-bye to someone?
The Bradley Yearbook Staff has just the thing!
PLACE A WISH AD IN THE YEARBOOK!
Get all the information you need on the yearbook website at http://is.gd/hbyearbook or onthis document.
Deadline for wish ads is Friday, May 3.

FRESH BAKED FUNDRAISER!
Do you love those rolls with cinnamon butter at Texas Roadhouse?  Bradley PTO and Texas Roadhouse are joining forces to raise some "dough".  CLICK HERE for more information.
OTHER WAYS TO DONATE
Are you too busy to participate in PTO events but you still want to help?  You can always donate to our PTO.  This money goes to helping pay for teacher meals and coffee carts.  The money also assists our students who are in need.  We hope you can help this important organization.  CLICK HERE for more information.

ATHLETIC BOOSTERS MULCH SALE 
The 9th Annual Hilliard Bradley Athletic Booster Association Mulch Sale  is officially underway.   Orders are due April 10.  Delivery: Saturday May 4th and the morning of Sunday, May 5th

We Need Your Thoughts
The Hilliard City School District would like to understand your perspectives and priorities about providing personalized learning experiences for our students. A personalized approach to education can help students feel more ownership of and connection to their learning, and improve learning outcomes.  Please take a few minutes to take part in this week's Thoughtexchange on personalization.  The thoughts you share and ratings you assign will inform how we can shape meaningful personalized learning experiences for all students.
This is the third in a series of exchanges designed to help the Hilliard City School District build a strategic vision for the next 10 years that students, parents, staff and community members can support and relate to. We recognize that we are asking for a lot of feedback about specific areas of the Next 10 plan. Thank you for your participation! We want to share what we've learned from you. Click the links below to explore the results of the past two exchanges:
We will continue to share what we learn as the series of exchanges progress. As a participant, you will be able to see the top priorities from each exchange.