Bradley Family Connection – February 19-22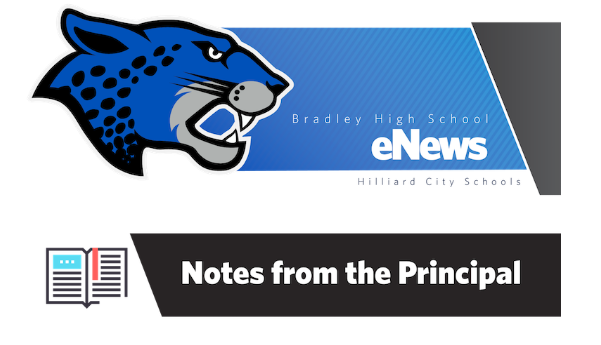 IT'S TESTING WEEK
On Wednesday February 20 we will administer the ACT to our 11th graders and the PreACT to our 9th graders.  The testing will take place first thing in the morning and be completed around lunch time.  During testing, 10th graders  will be working on AIR test prep and will also go through a series of informational sessions.  Our 12th graders will spend the day working on their Capstone project and college/scholarship applications.  Seniors are the only students  that are NOT required to attend school on February 20.
WHAT'S HAPPENING THIS WEEK AND BEYOND
Feb. 19  Shades of Blue Concert @ 7 p.m.
Feb. 19  Teen Depression and Suicide Parent University meeting – 6:30 p.m. @ Weaver MS.
Feb. 20   9th grade – PreACT testing, 10th grade – AIR test prep/Capstone/Naviance help sessions, 11th grade – ACT testing, 12th grade – Capstone/College work day out of school
Feb. 20   Author Visit Dr. Michelle Borba – 6:30 p.m. at Darby HS . Details below
Feb 23 -24   Student Directed One Act Plays   Purchase TICKETS HERE
CLICK HERE for a calendar of events for the week and beyond.

FEBRUARY IS DIGITAL WELLNESS MONTH
February is Digital Wellness Month in the Hilliard City School District.  During this month you will hear, read, and watch information purposefully crafted to start conversations with young people about appropriate uses of technology. We encourage families to engage in these same conversations at home; it takes all of us working together to keep students safe and healthy.
Take a look at this week's digital wellness family activity on ETIQUETTE .
IMPORTANT INFORMATION FOR SENIORS
As we move further into the school year, we will periodically post information for our seniors and senior parents.  THIS DOCUMENT will provide you with information to start planning for that big day in May!
Senior Scholarships are in full swing.  There are over 30 organizations in Hilliard alone giving money to Hilliard students and deadlines are fast approaching. The list can be found on your Naviance account, which includes descriptions, deadlines and links to the scholarships. There are also paper copies in the guidance office.  Check frequently for continuous additions.  CLICK HERE for details.
A MESSAGE FROM OUR PTO

Are you too busy to participate in PTO events but you still want to help?  You can always donate to our PTO.  This money goes to helping pay for teacher meals and coffee carts.  The money also assists our students who are in need.  We hope you can help this important organization.  CLICK HERE for more information.
ATHLETIC BOOSTERS MULCH SALE IS APPROACHING
The 9th Annual Hilliard Bradley Athletic Booster Association Mulch Sale will officially kick off Wednesday March 6th.   Student athletes will canvass Hilliard Bradley neighborhoods on Saturday March 16th and Sunday March 17th.   Delivery: Saturday May 4th and the morning of Sunday, May 5th

Be Well Registration Open
Registration is now open for "Be Well: A Parent University Event by Dublin and Hilliard City Schools" Choose from more than 100 sessions structured around student mental health and well-being. You can register for sessions in either district.  This free event will take place at Darby High School and the Dublin Emerald Campus.  You can come for one session or stay all day!  Lunch will be provided free of charge for those spending the day with us.
Author Visit, Dr. Michelle Borba
Dublin and Hilliard City Schools partnered in several community book talks this winter centered around the book Unselfie: Why Empathetic Kids Succeed in Our All-About-Me World. Now we'd like to invite you to hear from the author herself, Michele Borba, Ed.D. on February 20 at Darby High School at 6:30pm. This event is open to parents and staff from both communities.
Digital Wellness Month
 February is Digital Wellness month in Hilliard City Schools. Each week we will take a look at a different topic. Go to the Digital Wellness page to see some activities that families could use at home around being healthy and safe in the digital world.
This week we will be focused on Digital Etiquette.
Parent University – Teen Depression and Suicide
 The teenage years are full of many adventures and exciting growth but they can also be described as a rollercoaster of emotions. But how would you know if your child is just going through normal teenage highs and lows versus a more serious depressive disorder? Join us as we discuss normal adolescent brain development and the effect of depression on the teenage brain. On February 19th you can learn practical strategies to address depression should it affect your child or family.  The session will be held at Weaver Middle School and begin at 6:30pm.
Hilliard's Transition Resource Fair for Students and Families with Disabilities
Transition night is a free resource fair for students with disabilities and their families. It is designed to assist with future planning. This event will be in an Open House format so please join us to learn more about Adult Day Programs, Supported Living Options, Transportation, Home Care Services, Wills Estates and Trusts, Guardianship, Local Recreational Options, Employability and State Agency Support.  The event will take place on February 26 from 4:30-6:30pm at Darby High School.
Hilliard Education Foundation Denim & Diamonds Event
Come dance the night away while making a difference for Hilliard Schools' students at the fantastic Denim & Diamonds event, benefiting the Hilliard Education Foundation.  This fun filled evening features:
Live band, The Martini Affair;
Heavy Hors D 'Oeuvres;
Cash bar; and,
Silent auction.
The event takes place on Friday, March 8 from 7-11 p.m. at the Columbus Vue.  To purchase tickets or view sponsorship opportunities please visit the HEF webpage.
 Ready for Tomorrow Career Night
 Please join Hilliard City Schools and Dawson for a night to connect students and families with select businesses and colleges in our region for career exploration and job opportunities.  Our second annual Ready for Tomorrow Career Night will take place on Wednesday, February 27 at Darby High School.
Students, parents and community members will learn about opportunities available after high school.  We will have dozens of companies on hand to discuss career pathways, job readiness, tuition reimbursements and workforce experience programs.  The event will run from 6:30 until 8pm.
Parent University – Parenting Gifted Children
On Feb. 28 at 6:30pm at Memorial Middle School we are pleased to host Dr. Edward Amend, Lexington, KY Clinical Psychologist specializing in the social, emotional, and educational needs of gifted and talented youth and their families. HCSD is partnering with the South-Western City Schools to present "Outsmart Your Smart Child: Practical Strategies for Parenting Gifted Kids." Dr. Amend will review common myths about gifted children and provide practical advice for parenting a gifted child. Topics of discussion will include fostering communication, developing discipline, improving motivation, managing stress, moderating perfectionism, and nurturing positive family relationships.