Bradley Family Connection – April 29-May 3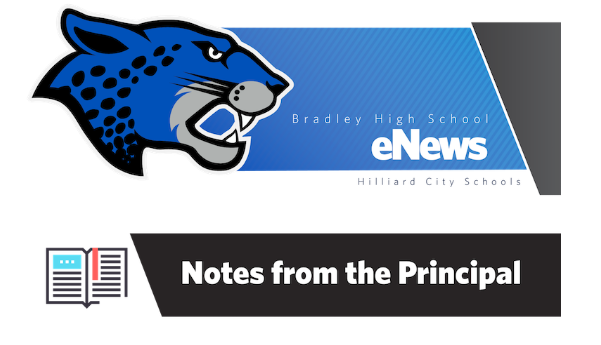 THE END OF THE SCHOOL YEAR IS APPROACHING
It's hard to believe that the school year is coming to a close.  It has been a great year! We are excited to graduate our SENIORS on May 22!
We will have our End of the Semester Assessment schedule for grades 9-11              May 29 – 31.  The schedule is below.  There will be no option to take any assessments early.
END OF YEAR ASSESSMENT SCHEDULE

WHAT'S HAPPENING THIS WEEK AND BEYOND
May 3 – 5   The Addams Family Musical   PURCHASE TICKETS HERE
May 2 @ 3 p.m.   Athletic Signing Ceremony in Main Gym
May 6 -17 AP Testing
May 17   Seniors Last Day
May 22   Bradley Graduation @ The Schottenstein Center   7 p.m.
May 29 – 31   Assessment Schedule
May 31   Last Day Grades 9 – 11
CLICK HERE for a more detailed calendar of events.

IMPORTANT INFORMATION FOR SENIORS
GRADUATION INFORMATION
THIS DOCUMENT will help seniors understand information about graduation and any other important information before that big day in May!
SENIOR YEARBOOK ADS
Trying to find the perfect way to express your love, pride, or just sheer congratulations to a special senior upon his/her graduation? Or maybe you're a senior who wants to say good-bye to someone?
The Bradley Yearbook Staff has just the thing!
PLACE A WISH AD IN THE YEARBOOK!
Get all the information you need on the yearbook website at http://is.gd/hbyearbook or onthis document.
Deadline for wish ads is Friday, May 3.

WAYS TO DONATE
Are you too busy to participate in PTO events but you still want to help?  You can always donate to our PTO.  This money goes to helping pay for teacher meals and coffee carts.  The money also assists our students who are in need.  We hope you can help this important organization.  CLICK HERE for more information.

Be Well Thank You
Superintendent John Marschhausen, along with the Superintendent from Dublin, invite you to watch a short video wrap up of our Be Well Parent University events.  We look forward to working with Dublin on this event next year.
Fire Trucks at our High Schools
The Norwich Township Fire Department will have trucks on our three High School parking lots to help make sure all of our students know the rules of the road at roundabouts.  We again don't want our staff or community alarmed by the presence of emergency vehicles at our schools on the following dates;
Monday, April 29:  Darby
Tuesday, April 30:  Bradley
Wednesday, May 1:  Davidson
Ohio Primary Shifts 2019-2020 Calendar
Due to the Ohio 2020 primary being moved to March 10, 2020, the Board of Education made a change to next year's school calendar.  The district will use March 10, 2020 for staff professional development.  Students will not be in school that day.  We want to give our families as much time to plan as possible, so please make a note of this change.
Social Emotional Learning Parent U Video
In the fall we held several Parent U sessions so that you could get a glimpse of what teachers might be doing in the classroom and how you can help at home. Our Director of Social Emotional Learning and Measurement took that information and put it into two parent videos. We hope you find this first one beneficial.
Hilliard Night with the Crew
Join our Hilliard School Community on Saturday August 10 for the first ever match between the Crew SC and FC Cincinnati! We have the opportunity to buy discounted tickets and be a part of history.
With the purchase of your ticket you can be on the field to help bring the Crew on through a fan tunnel. The game is at Mapfre Stadium and begins at 7:30pm. Tickets begin at $34.
Take advantage of this exclusive Hilliard City Schools offer as Crew SC takes on rival FC Cincinnati for the first time ever in MLS play! Game is expected to sell out!
Summer School
Hilliard Schools Summer Course Offerings are now available. Summer School is offered to Hilliard students as well as students from other districts. Sessions begin in June. Learn More
Elementary Summer Enrichment Camp
The Hilliard City School District is hosting their 5th annual Summer Enrichment Camp for current kindergarten through 6th grade students during the week of June 10- 14, 2019. There are a variety of classes being offered by Hilliard staff in the areas of science, art, technology, exercise, engineering, and more! Students can choose to attend a morning class, an afternoon class, or both.
Click here to find out more information and register for Summer Enrichment Camp.
Registration is open Monday and closes Monday, May 6th. Class sizes are limited, so sign up as soon as possible!  If you have questions, please don't hesitate to email the coordinator at paige_canale@hboe.org.