Bradley Family Connection – April 15-19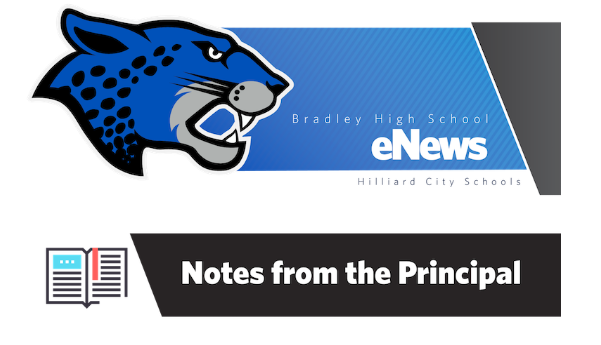 IMPORTANT ATTENDANCE INFORMATION
Bradley High School has started to notify parents/guardians of their child's unexcused absence from school via an automated message at 9:40 a.m.  This addtional communication procedure is to ensure the safety of our students during their commute to school as well as complying with recently signed legislation – House Bill 66.
If you receive this message at 9:40 a.m. it is because your child has been marked absent for one or more periods (during the first 120 minutes of the school day) without parental notification.  Upon receiving this message, please notify the attendance office with the reason for the absence as soon as possible so our records can accurately record the instructional minutes of school missed.
Bradley Attendance Office:
Phone:  614-921-7440
Fax:  614-921-7401
Email:  hbrattendance@hboe.org
Excusable Reason Includes:
Personal Illness
Illness in the family
Family Emergency
Doctor/dental Appointment
Funeral
Religious Holiday
Pre-Approved College Visit
If you believe you have received this message in error, please contact our office.

WHAT'S HAPPENING THIS WEEK AND BEYOND
State AIR Testing will continue this week.  See the dates below.  We will operate on a 2-hour late start on the days of testing.  Students who attend the ILC should communicate with their teacher on any revised schedules for these days.
| | | | |
| --- | --- | --- | --- |
| STATE TEST | WHO WILL TEST | DATE | Important Information |
| Science Parts 1 & 2 | Students currently enrolled in Biology | 4-16-19 | Non-testers will follow a 2-hour late arrival schedule. Buses will run at their normal time |
| Social Studies Parts 1 & 2 | Students currently enrolled in U.S. History and Government | 4-17-19 | Non-testers will follow a 2-hour late arrival schedule. Buses will run at their normal time |
| Math Part 1 | Students currently enrolled in Algebra, Geometry or GAC 2 | 4-23-19 | Non-testers will follow a 2-hour late arrival schedule. Buses will run at their normal time |
| Math Part 2 | Students currently enrolled in Algebra, Geometry or GAC 2 | 4-24-19 | Non-testers will follow a 2-hour late arrival schedule. Buses will run at their normal time |
Academic Awards (9-11- invitation only)  April 16 @ 7 p.m.
Senior Scholarship Ceremony April 17 @ 7 p.m.
All Honor Roll students will be recognized this week during lunch periods
CLICK HERE for a calendar of events.

IMPORTANT PROM INFORMATION
A Fairytale Prom
The Makoy Center
April 27, 2019
6:30PM – 11:00PM
Tickets are $75 and include dinner and parking.
All seating is reserved. Large groups are encouraged to purchase their tickets early for the best available seating. Tickets must be purchased by April 17 at midnight – NO EXCEPTIONS!
Visit our prom website for more information and to purchase tickets. https://sites.google.com/hilliardschools.org/bradley-prom-2019/home
IMPORTANT INFORMATION FOR SENIORS
 GRADUATION INFORMATION
THIS DOCUMENT will help seniors understand information about graduation and any other important information before that big day in May!
SENIOR YEARBOOK ADS
Trying to find the perfect way to express your love, pride, or just sheer congratulations to a special senior upon his/her graduation? Or maybe you're a senior who wants to say good-bye to someone?
The Bradley Yearbook Staff has just the thing!
PLACE A WISH AD IN THE YEARBOOK!
Get all the information you need on the yearbook website at http://is.gd/hbyearbook or onthis document.
Deadline for wish ads is Friday, May 3.
SPAIN AND FRANCE TRIP INFORMATION
We will have ONE last informational meeting about our 2020 Bradley Spring Break trip to France and Spain in the Bradley HS Media Center next Wednesday (4/17) at 6:30pm. Cities we'll be visiting include and are not limited to Paris, Bordeaux, Pamplona and BAR – THEY – LONA (Barcelona). The price of the trip is going up at the end of this month.  So, if you really want to go, just a $95 deposit will get you signed in at the lower price. And always come talk to Mr. Neuhausel (fred_neuhausel@hboe.org) or Mrs. Alonso-Bartels (miriam_alonso-bartels@hboe.org) if you have any questions or can't make the meeting!  You can view the tour and all that is included by going towww.eftours.com/2152055PZ

WAYS TO DONATE
Are you too busy to participate in PTO events but you still want to help?  You can always donate to our PTO.  This money goes to helping pay for teacher meals and coffee carts.  The money also assists our students who are in need.  We hope you can help this important organization.  CLICK HERE for more information.

Summer School
Hilliard Schools Summer Course Offerings are now available. Summer School is offered to Hilliard students as well as students from other districts. Sessions begin in June. Learn More
Elementary Summer Enrichment Camp
The Hilliard City School District is hosting their 5th annual Summer Enrichment Camp for current kindergarten through 6th grade students during the week of June 10- 14, 2019. There are a variety of classes being offered by Hilliard staff in the areas of science, art, technology, exercise, engineering, and more! Students can choose to attend a morning class, an afternoon class, or both.
Click here to find out more information and register for Summer Enrichment Camp.
Registration is open Monday and closes Monday, May 6th. Class sizes are limited, so sign up as soon as possible!  If you have questions, please don't hesitate to email the coordinator at paige_canale@hboe.org.
Superhero Run 5K and Kids Dash
Please join us for a fun, family friendly spring race hosted by the Hilliard Davidson Band Program in partnership with Orphan World Relief, a non-profit organization here in Columbus working tireless on behalf of orphan and foster children both here and abroad. There will be a kids area where we will have face painting, inflatables, and characters dressed up like Superheroes and Princesses.  There will also be an award ceremony following the race where some great prizes will be awarded to the winners of each age bracket.  Plus, the Hilliard Davidson band will be performing along the race route to energize the runners.  It will be a WONDERFUL way to spend a spring afternoon!
The race will take place at the Hilliard Davidson stadium and school grounds on April 28th.  There will be a 400 meter Kids Dash at 12:45 after which each runner will get a SWEET medal for getting outside and being a superhero!!  Then there will be a 5K starting at 1pm that will tour the grounds of the school.  If you are interested in registering, please visit either the Hilliard Davidson Band website, or search for the race at runsignup.com. Registration is also available on site the day of the race."