Bradley eNews – September 30-October 4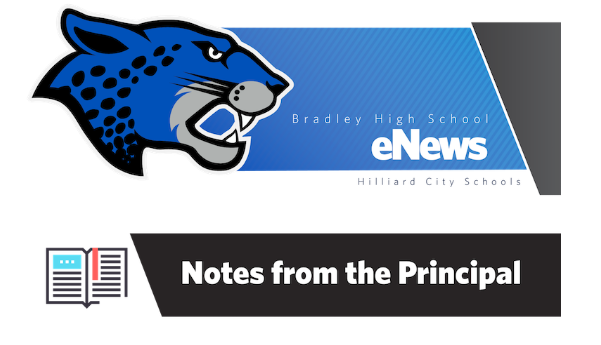 WHAT'S HAPPENING AT BRADLEY
Bradley PTO meeting    Oct 2 @ 7 p.m. in the Media Center
Military Information Night   Oct 8 @ 6:30 p.m. in Bradley PAC
Parent Teacher Conferences   Oct. 16  More information coming soon
End of Grading Period One   Oct. 17
No School for Students   Oct. 18
The Importance of Being Earnest Mainstage Show   Oct. 11-13 . TICKETS HERE
CLICK HERE to view our Bradley calendar for all events.

SCHOOL COUNSELOR INFORMATION
Check out our School Counseling WEBSITE HERE.
On this site, you will find information on how to schedule a time to see your School Counselor and also see lots of college information.  Seniors – you will also be able to stay up to date on scholarships and other graduation information as they become available.
SENIORS – CLASS OF 2020
COLLEGE INFORMATION
Many of you have already started the process of applying to college.  Use THIS LINK for information on important dates and college rep visits to Bradley.
SENIOR PICTURE INFORMATION
Senior picture submissions are being accepted NOW for the 2019-2020 Yearbook! The deadline for submissions is Friday, December 13th, 2019, but why wait? Upload your senior photo NOW by going to our Bradley Yearbook website at http://is.gd/hbyearbook and filling out the google form linked under the "Senior Pictures" tab. The sooner the better!
If you want to purchase a yearbook for the 2019/2020 school year, go to  www.jostensyearbooks.com.

A MESSAGE FROM OUR PTO
DID YOU KNOW:  Bradley has a PTO?  It does…and we need your help!  The PTO is fueled by fundraisers, donations and service hours, all essential to helping us provide student scholarships, teacher conference meals, our monthly free Cookie Days for students, and so much more.
CLICK HERE to check out current fundraisers (Texas Roadhouse Rolls and Cinnamon Butter, anyone?!) and giving opportunities, so you can help us support the students and teachers in their ongoing efforts  Every donation, new idea, and helping hand, however big or small, is welcomed and appreciated!

Treasurer Wins Career Achievement Award
We are proud to announce and recognize Treasurer Brian Wilson won the Ohio Government Finance Officers Association's 2019 Career Achievement Award.  Mr. Wilson has served in Hilliard Schools since 2005. "His dedication and stability have provided exceptional leadership for the Hilliard community. His elite financial skill keeps our district financially stable.  He's an essential member of our district's leadership team.", said Superintendent John Marschhausen.
Facilities for Tomorrow Conference
This fall the district will embark on a Master Facility Plan.  We want to get our community involved from the beginning.  So we are asking you to join us on October 20 at 6 pm at Darby High School.  This night will be an open with a short presentation of current and future trends in education, and small group discussions for you to share your vision of what a Hilliard education should look like in the future.
State of the Schools – Save the Date
We want to invite you to Dr. Marschhausen's sixth State of the Schools address on Thursday, October 24, 2019.  The event is sponsored by The Credit Union of Ohio and presented in partnership with The Hilliard Area Chamber of Commerce.  The address will take place at Heritage Golf Club.  From 6:00 pm – 6:30 we will have music provided by our High School Honors Quartet.  There will also be light appetizers and a cash bar.  Dr. Marschhausen's address will begin at 6:30.